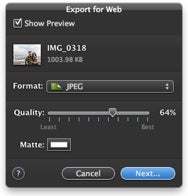 Pixelmator is a powerful photo editor with a gorgeous, HUD-is-the-new-black interface, and it's no secret that we're big fans. A major update released Tuesday adds some excellent new editing, color, and exporting features, including one at the top of many request lists: Save for Web.
Save for Web allows you to quickly save a compressed version of a file in a Web-friendly image format and file size. In true Pixelmator form, the new Save for Web dialog is simple and features some unique polish that makes it a joy to use. If you don't need to export for the Web, a new "Send To" option allows you to send a copy of your image to either a new Mail message or your iPhoto library.
New Slice and Trim tools allow for making quick standard edits, such as automatically cropping out all the transparent pixels from the edges of an image. Pixelmator 1.5 also uses a new Web Colors plug-in for the Apple Color Picker that allows you to copy hex color values for pasting into other applications like HTML or CSS editors.
Pixelmator brings a number of other lesser but still appreciated new features, such as a new File Info sheet that allows you to add Spotlight-friendly keywords and display image information like EXIF and IPTC properties. New Image and Canvas Size dialogs allow for quickly fitting images into default or custom dimension templates, and, of course, Pixelmator 1.5 adds full Snow Leopard compatibility.
A host of other improvements and bug fixes round out the update, which is free for registered owners. Pixelmator has a 30-day demo for new users, and a license costs $60.