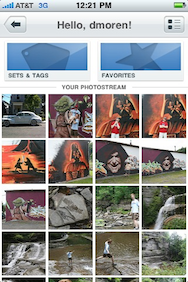 The iPhone has long been far and away the most popular camera phone on photo-sharing site Flickr—these days it's very nearly the most popular camera, period. But while the Yahoo-owned service did offer a very slick iPhone-optimized Web interface for browsing photos, for many other features users had to turn to third-party applications like Connected Flow's Darkslide.
On Saturday, Flickr jumped into the murky pools of the App Store with an official native client. The application's certainly eye-catching: upon logging in, it'll show you a slideshow of your contacts' recent photos, zooming in-and-out in Ken Burns-style. You can search, browse (by sets or tags), view recent activity, and, of course, upload pictures snapped with your iPhone. Uploading lets you add tags (including browsing your existing collection of tags), description, and even your current location, drawn from the iPhone's Core Location services.
The Flickr application is free and requires an iPhone or iPod touch running at least iPhone OS 3.0.