Editor's Note: The following article is reprinted from CIO.com. Visit CIO's Macs in the Enterprise page.
It's that time again. Apple has distributed electronic invites to notify all the cool kids that a major company event is being held in San Francisco Wednesday.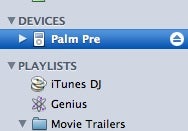 The invites feature Apple's trademark dancin', silhouetted iPod dudes/dudettes with the message "It's only rock and roll, but we like it."
In typical Apple camp fashion, oodles of speculation sprang forth from journalists, analysts and others immediately after the news of the event hit the Web, all with verifying levels of believability. For instance, some folks said Apple could finally be ready to release its Mac tablet, or "iPad" (not at all likely); Cupertino could be unveiling a new version of iTunes (likely); iPod touch devices could get 3.2-megapixel cameras (very likely); and Apple might finally decide to bring CEO Steve Jobs back on stage for the first time at a major event since his extended medical leave (almost guaranteed).
Regardless of the specifics, Apple's announcements will mostly be aimed at the company's own customers—though there could be a large portion of Palm's user base also affected by the announcement. Here's why.
Back when Palm first released the much-anticipated Pre smartphone in June, it shipped with a cool feature that allowed Pre owners to utilize Apple's popular iTunes digital juke box app to sync music files from their iTunes collections to the Pre.
iTunes identified the Pre as an iPod. And it actually worked great. In fact, I praised Palm and the application in my Pre review.
However, it didn't take Apple long at all to squash Palm's Pre iTunes-sync plans, and the company disabled the function in iTunes 8.2.1, which it released in mid-July, just a month after the Pre became available. Apple said it disabled the features because it does not support non-Apple hardware.
A week or so later, Palm responded by releasing webOS v1.1, which re-enabled media sync via iTunes. And that's where we're at today.
Shortly after Palm re-enabled iTunes media sync for the Pre that first time, I penned an open letter to Palm, explaining why the company would be better off creating its own standalone application for Pre media syncing, instead of depending on iTunes. In that article, I predicted that Apple will disable Pre sync in as many version of iTunes as it needs to before Palm gets the message. Tomorrow, around 10 a.m. PT, I'll find out whether or not I was correct—assuming Apple does indeed announce/release a new version of iTunes at its event.
Let's just hope Palm listened to my initial advice and started focusing its efforts on its own media sync app that integrates with iTunes, much like the one Research In Motion (RIM) released for BlackBerry users, called BlackBerry Media Sync. Otherwise, Pre users could be temporarily out of luck.