At a Glance
Expert's Rating
Pros
Adds geotags to JPEGs from digital cameras
Raw file format support
Can transfer files wirelessly
Cons
Slow transfer speeds
Geotagging works only via wireless transfers
Our Verdict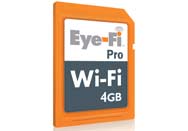 The Eye-Fi Pro is an SD memory card with built-in Wi-Fi for digital cameras. The card provides photographers the option of transferring pictures without cables or card readers to a computer or to an online photo sharing Web site.
That's always been the essence of Eye-Fi products, but the new Pro model builds upon that foundation with additional features. Some of the features are found on other Eye-Fi cards, such as lifetime geotagging service, video uploading, and 4GBs of media storage. What Pro users get that others do not is the ability to send Raw files to their computer and to create an ad hoc network that doesn't require the Internet for file transfer.
The first thing I tested with the Eye-Fi Pro was the geotagging performance at various locations throughout Northern California, including the de Young Museum in San Francisco, Six Flags Discovery Kingdom in Vallejo, and random spots around Santa Rosa. The Eye-Fi card records the router address nearest to where you take your shots. When you transfer the images to your computer and use the Eye-Fi Manager software, the location of those addresses are looked up, and the resulting geotags are added to the photos. If there are no registered Wi-Fi hotspots nearby when you take a picture, no router address is recorded, so no geotags are added to your pictures. Geotagging works only when you wirelessly transfer the pictures. If you insert the Eye-Fi Pro in a card reader and then drag copy the pictures, they will not contain geotag information.
I found that the results were reasonably accurate taking into account that Eye-Fi uses registered Wi-Fi hotspots for its location information, not GPS. Overall, I was impressed with the results.
When it's time to transfer your pictures to your computer, you can now control which images are uploaded using the Protect key on your camera coupled with setting a preference in the Eye-Fi Manager software. Existing users of other Eye-Fi cards should note that this feature is available for older cards via a firmware update. This is a much-requested improvement giving photographers better control over the uploading process.
If you take advantage of the new Raw file transfer for the Pro card, the ability to select which files to transfer is absolutely necessary. Raw file sizes run about 12MB with my Canon PowerShot G9, and wireless transfer for the Raw files took at least 2 minutes each, sometimes much longer. You need to choose your files carefully so you don't drain your camera battery unnecessarily uploading humungous Raws. Also note that Raw transfer only works to your computer, not to online services.
The workflow I prefer when using the Eye-Fi Pro is to shoot Raw+JPEG. I have the selected JPEGs immediately uploaded from the camera to an online service such as Flickr or SmugMug (you need to have Wi-Fi access). Later, I transfer the Raw files by card reader. This allows me to share photos right away without getting bogged down in a lengthy transfer process.
Another tip for better performance is to turn off your camera's LCD display when transferring images via the Eye-Fi card. This helps conserve battery life. I also make sure that the sleep setting on the camera is disabled so file transfer isn't accidentally interrupted.
Another interesting feature with the Pro card is ad hoc network transfer. Eye-Fi provides instructions for setting up direct connection between the Eye-Fi card in your camera and your Mac, without a Wi-Fi router. And it works, as long as you're using Leopard or Snow Leopard (10.5.7 or above). Keep in mind, however, that you don't get the geotagging service when using this configuration.
If you think transferring Raw files wirelessly is ambitious, how about video? For my test, I shot a one-minute movie with the PowerShot G9 at 640-by-480 resolution, then set the Protect key to initiate upload wirelessly. It took 7 minutes to transfer the movie from the camera to my computer, then another 3:20 minutes to upload it to my Flickr account on the Web via Eye-Fi Manager. (I have Flickr upload as part of my Eye-Fi settings.) After the upload, the movie played perfectly on both Mac and Flickr.
Macworld buying advice
Compared to the $100 Eye-Fi Explore Video, the $150 Eye-Fi Pro adds Raw support and Ad Hoc network capability. You get standard JPEG support, video transfer, 4GB of storage, and lifetime geotagging with both cards. So unless you need the features unique to the Pro model, we recommend the less expensive Explore Video.
[Senior Contributor and professional photographer Derrick Story teaches iPhoto on Lynda.com and runs a virtual camera club at The Digital Story.]