Any designer worth their weight in beans will agree that typography is an extremely important part of what they do, not to mention an essential piece of your daily life. The art of arranging type is a deep and involved process, covering everything from simply choosing a font to settling on type placement and the proper use of glyphs.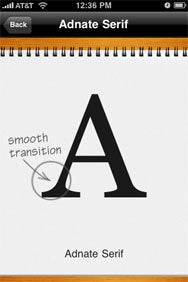 While we'd all like to say that we're experts in this field, there's quite a bit to remember and understand for everything to come together. The Typography Manual looks to provide you with every point of reference you would need at your fingertips to become a master typographer.
The $5 application from The Typography Manual offers two menus: a manual and a set of resources. The former provides what you'd expect from a typography text book—a history of type, the basic rules, classifications, adjustments, properties of both print and Web type, guides for proper punctuation, and specimens of important typefaces. The app also provides a healthy amount of visual examples for all of the above.
The resources portion of Typography Manual is where to head for conversion tables, size calculators, HTML codes for special characters, keyboard shortcuts, type foundries, standard banner sizes, useful Web sites, inspiration, and links to blogs.
As you'd expect from an application for designers, The Typography Manual is very well organized and a pleasure to use. From the visual examples to the dynamic calculators, the app gives all the information you need to understand the terminology, going above and beyond just the basics.
I recommend this application to designers as well as anyone who wants to improve their writing. While there are plenty of great books on the topic, the convenience of having so much information in your pocket is priceless. The more I use The Typography Manual, the more I fall in love with it and find fascinating bits of information I never knew I needed. Pick up a copy of the app today and you may find yourself using Helvetica Extra Light, just to be fancy.
The Typography Manual is compatible with any iPhone or iPod touch running the iPhone 3.0 software update.
[Rob de la Cretaz is a full-time polymath and a proud resident of Pittsburgh.]