We're less than 24 hours away from Apple's "Rock and roll" event, an invitation-only press session in San Francisco Wednesday that's expected to focus solely on Apple's music-related products.
As always when there's an Apple event, Macworld will be there in full-force. Look for our live coverage of Wednesday's event to start at 10 a.m. PT, with reports, pictures, and even tweets from the Yerba Buena Center for the Arts Theater.
But what will those reports, pictures, and tweets reveal? Or to put it another way, what does Apple have in store for us at this year's edition of its annual fall music event?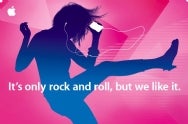 As Christopher Breen wrote last week, 'tis the season for new iPods. Apple traditionally refreshes its iPod lineup in September to get ready for the holiday shopping season. In September 2008, Apple introduced a new iPod nano, made changes to the iPod touch and pared the iPod classic to a single offering. September 2007 saw the debut of the iPod touch and the rebranding of the full-sized iPod as the iPod classic. And September 2006 brought lower prices, brighter displays, and enhanced battery life to iPods. You get the idea.
This time around, Apple is rumored to be adding cameras to its iPod classic and touch models. Whether that's a good idea or not is an interesting question, but it would add a new dimension to Apple's media players. However, some reports claim that Apple has had technical problems during testing and may not release such products on Wednesday.
Wednesday could also be notable for products that get discontinued—specifically the iPod classic. After last year's iPod unveiling left the 120GB music device as the last hard drive-based player in Apple's lineup, the classic's days appeared numbered. Writing at PC World, Technologizer.com's Harry McCracken thinks it may be a little early for the classic to exit stage left.
Another rumor being bandied about contends that a new version of iTunes is nigh. This update—iTunes 9, perhaps?—could include interactive elements, photos, lyrics, and more with purchased music (the so-called Cocktail Initiative), as well as iPhone/iPod touch app organization capabilities and perhaps even Blu-ray support or DVD-ripping.
And then there's the perpetual rumor of The Beatles finally making their way onto the iTunes Store—this year's version of the rumor has timed the Beatles' long-delayed arrival at iTunes to coincide with the release of the band's remastered catalog. Those rumors have cooled considerably in recent days, only to be rekindled by a story Tuesday that none other than Yoko Ono has confirmed to Sky News that The Beatles were soon to appear on the iTunes Store. (EMI's global catalog chief has since shot down that rumor, so it looks like future generations will get to continue the annual tradition of guessing when the Beatles' music might wind up on iTunes.)
Finally, everyone is taking bets on whether Steve Jobs will attend or participate in Wednesday's event. The Apple CEO recently returned to work after a six-month leave of absence that included a liver transplant. Jobs hasn't appeared at an Apple event since October 2008 when the company unveiled a remodeled laptop line.
Be sure to tune in Wednesday at 10 for our up-to-the-minute coverage.