Avid Technology today announced three new Pro Tools Essential bundles, hardware-software combinations that target consumers and hobbyists who are interested in musical composition, editing, and production, or who want to create and share music, podcasts, narrations, and other audio content. The packages are: Pro Tools Vocal Studio, Pro Tools Recording Studio, and Pro Tools KeyStudio.
Pro Tools M-Powered Essential software is a streamlined edition of Pro Tools, the company's professional music creation software. Pro Tools M-Powered Essential is designed to enable users to progress from casual playing or singing to full-fledged music production–with styles ranging from hip-hop and funk to pop, jazz, rock, and blues. The software also includes a library of virtual instrument sounds–a starting point for users to begin making their own music.
Pro Tools Vocal Studio includes the Producer USB microphone that lets people capture vocals, as well as record acoustically played instruments. Using the software, users can remix vocals to produce soundtracks and podcasts. It also comes with a desktop stand and carrying case.
Pro Tools Recording Studio lets users craft songs and remixes with no prior experience. With the included Fast Track USB audio interface plugged into the computer, music enthusiasts can capture digital sound for their recording projects, whether from a guitar or a standard microphone. The software then lets consumers dub, mix, remix, edit, blend, restore, and hone to create professional-sounding audio projects.
Pro Tools KeyStudio features the M-Audio KeyStudio USB keyboard, a 49-note velocity-sensitive keyboard that also functions as a MIDI interface. It also features an assignable modulation wheel for effects, volume slider, pitch bend wheel, octave/transpose +/- buttons, sustain pedal input, and more.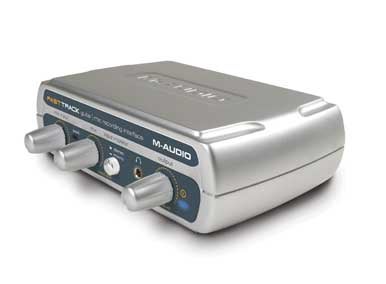 With Pro Tools KeyStudio, users can record a single keyboard track or create a complete orchestral recording using the KeyStudio to input any of the 60-plus virtual instruments that come with Pro Tools M-Powered Essential. The keyboard also works with other programs, such as GarageBand and music education and composition software.
Each bundle ships with the Pro Tools M-Powered Essential software, which contains the following:
over 5.5GB of instruments and loops
16 stereo/mono audio tracks
8 Instrument Tracks
8 MIDI tracks
Studio quality effects collection including reverb, chorus, delay, flanger, phaser, compression, and EQ
3 effect Insert slots per track for up to 3 simultaneous effects
Busses for group mixes/effect sends and Aux Tracks for effect returns
2 audio inputs and 2 audio outputs
Over 60 virtual instrument sounds from piano and strings, to bass and drums
The KeyStudio bundle is priced at $129 while the Vocal Studio and Recording Studio are $99. All three bundles will be available beginning in mid-September at major online and local retailers, such as Best Buy and others.
This story was updated on September 9th at 11:10 a.m. to clarify product pricing.