BIAS released SoundSoap Pro 2, adding adaptive noise reduction to the newest version of its audio noise reduction and restoration plug-in.
With adaptive noise reduction, BIAS promises that SoundSoap users will have greater power than before, as they'll be able to automatically extract a noise profile using the program's advanced algorithms. In addition, SoundSoap Pro 2 includes new tool tips aimed at making the interface easier to navigate. Other features include broadband parameter value display for improved precision, Pro Tools 8 support, and additional enhancements.
SoundSoap Pro 2 costs $599; existing users can upgrade for $99, while the entry level edition of SoundSoap still costs $129. The latest version works with Peak, Pro Tools, Logic, SoundTrack, GarageBand, Digital Performer, among other programs.—Philip Michaels
VoodooPad update adds document encryption, other features
Flying Meat on Tuesday released VoodooPad 4.2, the latest update to its powerful note-taking software. Version 4.2 integrates the features of the now discontinued VoodooPad Pro, including document encryption, event scripts, page metadata, and a built-in Web server. In addition, this update includes a number of bug fixes and enhancements, including some improvements to syncing.
VoodooPad 4.2 requires Mac OS X 10.5 or later and is a free update to VoodooPad 4 users and some VoodooPad 3 users; owners of previous versions can upgrade for $20. A new license costs $40.—Dan Moren
Letter Opener ready for Snow Leopard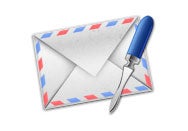 Restoroot.com has released Letter Opener 3, the latest version of its Apple Mail plug-in for converting Microsoft Outlook winmail.dat attachments. The update brings compatibility with Mac OS X Snow Leopard and adds a number of under-the-hood improvements. Letter Opener 3 requires Mac OS X 10.5 or later.—DM
More Snow Leopard updates
Add Speed Download and TopXNotes to the ranks of software adding compatibility with Snow Leopard.
The Speed Download 5.2.4 update actually adds further tweaks to the OS X download manager that are aimed at further improving integration and performance with Mac OS X 10.6. In addition, developer Yazsoft says, Tuesday's update should address a "component update" window that kept appearing for some users while improving Add File from URL fetching and parsing. The update also boasts better Rapid Share compatibility in Snow Leopard.
TopXNotes 1.4.1 adds full compatibility with Snow Leopard. Users of the personal information manager and note taker will be able to take advantage of a new feature in OS X 10.6's Preview that makes it easy to copy text from multi-column documents for pasting into a TopXNotes note.—PM