Another in the line of painting apps for the iPhone and iPod touch, Layers from Gotow.net delivers a long-awaited and powerful option—the ability to create multiple layers. Ben Gotow developed and fine-tuned this $5 app using feedback from hundreds of mobile artists, which becomes evident as you go through some of its features.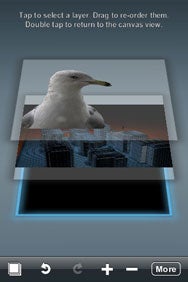 Support for multiple layers gives you much more control and opens up many more possibilities for your creations. For instance, you can import a picture from your camera roll and use the eraser tool to selectively reveal portions of an underlying picture to create photo compositions. Or you can paint in backgrounds without having to carefully paint around subjects already on the canvas.
Layers supports up to five layers at any one time in your painting, and if you find you need another, there's the option to merge down and free up space for a new one. Tapping the Layers button switches to a 3-D view of all the layers where you can select them or drag and drop to rearrange their order in the stack. Also, you can fill, delete, merge down, duplicate, or add new layers.
Layers has a clean and simple interface that moves off-screen when you start painting and comes back with a slight shake of the device. You can zoom from 55 to 1,000 percent using the pinch gestures; a quick double tap on the canvas automatically zooms in on that particular area.
You can paint in virtually any color with sliders to adjust transparency as well as how light or dark the color is. A nice eye dropper tool lets you select any color on either the current layer only or all layers—you access that tool with a tap-and-hold.
Eight natural media brushes range from hard or soft circles to scattered dots, which make painting hair or adding textures easier. Each brush can be sized from very large to just one pixel for fine detail work. The brushes are impressive enough, but there's the possibility of new brush packs in future updates. In the here-and-now, an eraser tool supports transparency and works using any brush. Layers offers a 30-level undo/redo stack that saves when you stop editing your painting for whenever you resume working on it.
You can also export your creation as a PSD file complete with layers through an in-app e-mail feature. Or you can opt to save the image to your camera roll, duplicate a painting, or e-mail it as a JPEG. All of your masterpieces are stored in the gallery, which has preview thumbnails that can be re-sized via a slider at the bottom of the screen. A Sync button allows you to wirelessly save Hi-Res copies (up to 4,096×4,096) of your paintings to your desktop, as well as create Quicktime playback movies of them being painted stroke by stroke. There's just one catch to this feature—it requires using the Replay Viewer which only works on a Mac running OSX 10.5 and above. Gotow.net is working on a Web service that will allow you to upload paintings to the Layers server, with Hi-Res JPEG or PSD files e-mailed to you.
I did discover one bug when importing photos into Layers that occasionally distorted or randomly cropped the image. The developer is aware of this and says it will be fixed in the next update. Also coming soon: the ability to set the transparency of entire layers.
With its support for multiple layers and the ability to export PSD files (among other features), Layers is an excellent app. The developer is very responsive and seems dedicated to listening to the users and adding requested features, making the future of Layers really bright.
Layers is compatible with any iPhone or iPod touch running the iPhone 3.0 software update.
[Tim Mercer is a technology enthusiast, graphic designer, and blogger, whose blog, digital-artist-toolbox.com, offers free resources to the digital artist and graphic designer.]