Volley, a $3 game from Tapelicious.com, is a Pong clone. A beautifully drawn, adorably cuddly Pong clone, but a Pong clone nonetheless.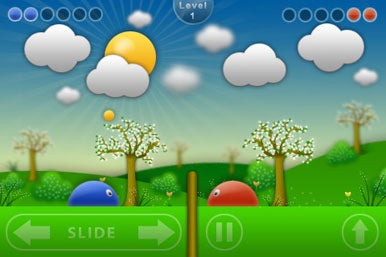 To be fair, this isn't your father's Pong. Volley exploits the iPhone's multitouch screen creatively. Your left thumb moves your dome-shaped character left and right, and your right thumb handles jumping duties. (Southpaws will appreciate the game's settings, which allow you to reverse these controls.)
In theory, of course, Volley is supposed to be a recreation of volleyball. But the game's obviously a very stripped-down version of that sport. You can unlock 16 levels, each of which sports its own attractive look, along with increasingly difficult opponents.
Volley's physics are excellent. You can jump while moving from side to side, and where you hit the ball with your bulbous head, how high you are in your jump, and your lateral movement all combine to affect its trajectory. When I hit the ball, it goes where I expect it to pretty consistently, which I certainly appreciate.
This is a cute but repetitive game. It looks great and plays well, and while it's not especially deep or nuanced, it's certainly fun.
Volley is compatible with any iPhone or iPod touch running the iPhone 3.0 software update.
Lex Friedman writes for Macworld as often as he can.