The marketing materials for CubeLex summon up comparisons to the likes of Tetris and Bejeweled. So far as comparisons go, that gives you a pretty good idea of what you can expect from Gamesmith's $1 game. Fans of either of those two puzzle classics will find something new here.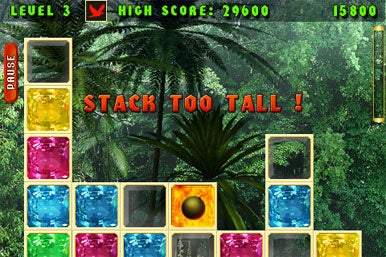 CubeLex is a puzzle game set in an Aztec jungle environment where colored cubes drop from the top of the screen, and you be place them in groups of three or more in order to eliminate them from play and earn points. Once the cubes drop, you slide them from side to side and up and down with your finger; however you can only slide cubes up one block level at a time. You can also drag entire columns of cubes.
If the cubes accumulate and get too high, the game ends. Special cubes such as "chameleon" cubes serve as wild cards, and some are cubes are unmovable requiring more strategy to eliminate them from the board. (A recently released lite version of CubeLex lets you play the game for free, but cuts you off after you complete three levels.)
A second game mode in CubeLex adds additional specialty cubes: crystal cubes and bomb cubes. Bombs can be used to destroy a large area of cubes, and crystal cubes can be arranged across a row to remove the entire row at once. Go for big combinations to get more points and advance through the levels as the pace quickens.
Thanks to three difficulty levels, you'll be able to tailor CubeLex to your particular skill level. I found the easy skill level to be a little slow, but it is probably great for younger gamers or to get a feel for the game. The normal skill level provides a good balance of difficulty, while the hard skill level can be downright frantic.
It takes a bit of time to get used to the control of the cubes since they tend to lag behind your finger as you drag them across the screen. Don't be afraid to use a second finger to help manage the cubes when you need to act fast as your cubes approach the top of the screen. Games are saved upon exiting, and your high scores are tracked and shared online.
Fans of puzzle games looking for a new challenge should give CubeLex a look. It is a very polished game with detailed graphics and great sound effects. While beautiful, the music can get a bit monotonous over long sessions. You can turn off the game music and listen to songs from your own iPod library, but you can't independently leave the game's sound effects enabled.
CubeLex is compatible with any iPhone or iPod touch running the iPhone 2.2.1 software update.
[James Savage is the host of the RetroMacCast a weekly podcast devoted to older Macintosh computers.]