Palm on Wednesday introduced the Pixi, its second phone designed to use webOS, the same operating system that powers its much-ballyhooed Pre model. It's coming to U.S. carrier Sprint in time for the holidays at a price to be announced later.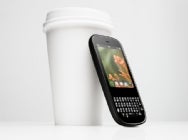 The Pixi is billed as Palm's thinnest phone yet. It measures 2.17 x 4.37 x 0.43 inches and weighs 3.51 ounces; that compares to 2.3 x 3.9 x 0.67 inches for the Pre, which weighs 4.76 ounces. The device sports a 2.63-inch multitouch display with 320 x 400 pixel resolution, a "gesture area" for navigation, and an exposed QWERTY keyboard.
The Pixi transfers and receives data using EV-DO Rev A where possible, and supports IM, SMS and MMS messaging. Google Talk, AIM and Yahoo! IM are supported. The Pixi also features a built-in Web browser, e-mail with Exchange ActiveSync (EAS) support and built-in GPS.
The camera comes with a 2-megapixel fixed focus camera with LED flash, standard 3.5mm headphone jack, 8GB of internal storage, built-in proximity and light sensors, and an accelerometer which orients Web pages and photos based on your perspective.
Palm got an early jump on technology news this Wednesday. Apple plans a special event for later in the morning: 10 AM Pacific Time, 1PM Eastern. Apple's September events have historically focused on changes to its iPod and iTunes products.
Palm also announced that Sprint has reduced the price of the Pre beginning today to $150 with a two-year service agreement, after a $150 instant rebate and $100 mail-in rebate. Reports on Tuesday indicated that Sprint had given some new Pre buyers a $100 service credit; the company called the credit an "error."