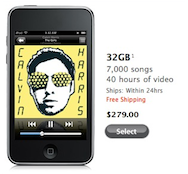 What with the next Apple event just hours away, it would be nice if we had some sort of concrete sign of what they might be announcing. Instead, all we've got is the news that the online Apple Store has cut prices across the iPod line. What are we supposed to take away from that?
Oh. Right. Well, if you don't find yourself intrigued about what might be introduced, you can now pick up a known quantity for a significantly less, uh, known quantity. Apple has quietly dropped prices on its iPod models, in some cases dramatically.
The iPod touch line has seen the 8GB model drop from $229 to $189, the 16GB from $299 to $249, and the 32GB from $399 to a wolf-whistle-inducing $279. Cuts in the iPod nano reduce the 8GB model to $129 from $149 and the 16GB to $149 from $199. And not to feel left out, the 120GB iPod classic is now $229 instead of $249. The iPod shuffle has remained stable at $79.
A price drop this significant ahead of announcements of new products could suggest that any new iPod models introduced at Apple's event will not ship immediately, thus giving Apple time to clear inventory of its old models. The store has also not been thoroughly updated yet (some of the old prices remain), so it's also possible that an over-enthusiastic Apple employee jumped the gun— it's happened before.
Whatever the case, we'll know in a few hours what the deal is. Remember to tune into our live coverage from the Apple event in San Francisco at 10AM Pacific, 1PM Eastern.