QNAP on Wednesday announced two new Network Attached Storage (NAS) devices aimed at small businesses: the desktop TS-419P and the rack-mount TS-419U, for $599 and $799 respectively.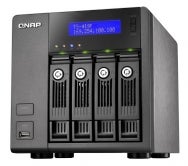 Both systems are four-bay NAS appliance that accept 2.5-inch and 3.5-inch Serial ATA (SATA) hard disk drive mechanisms. They're fitted with 1.2GHz CPUs and 512MB of DDR2 RAM. Two Gigabit Ethernet ports support multi-IP, failover and load balancing, while four USB 2.0 ports let you connect additional storage capacity. Two external SATA (eSATA) ports are also included. An LCD panel on the front lets you observe the system's status. Each of the drive bays is lockable, and drives can be hot-swapped if one of them fails. The NAS supports RAID 0, 1, 5, 5+ hot spare, RAID 6 and "Just a Bunch of Disks" (JBOD) configurations.
The NAS software includes support for FTP, and the device works with Apple Time Machine software, EMC Retrospect and other backup software. It can share a printer through the USB ports, and features a MySQL database server, UPnP and DLNA support for streaming media to game consoles, and iTunes server for sharing music. You can also the devices to run up to four IP-based network surveillance cameras for security. iSCSI is also supported, though you would need initiator software for the Mac (not included).
The NAS works with Mac OS X, Linux, Unix and Windows operating systems.