Do you find yourself calling the same people over and over again, burning through your wireless minutes like a rock star trashing a hotel suite? In that case, you very well might be a prime candidate for AT&T's forthcoming A-List plan (especially if you are a rock star). A free addition to qualifying AT&T wireless plans, A-List allows you to make free calls to five cell phone or landline numbers of your choice.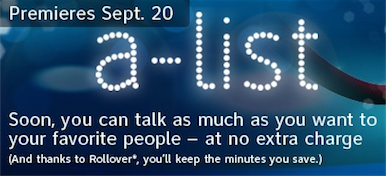 Similar in concept to T-Mobile's myFaves, the A-List program means that any calls you make to the numbers you designate—which you'll be able to control by visiting AT&T's Web site—will not deplete your store of minutes. Since those minutes are unusued, they'll roll over along with the rest of your unused minutes into your next month's balance.
Of course, you don't need to be a rock star to sign up for A-List: all you need is a qualifying AT&T plan, which includes Individual Nation plans starting at $60/month or FamilyTalk plans starting at $90/month—FamilyTalk subscribers also get to specify ten numbers instead of just five. In addition, you'll need to have setup online account management at AT&T's Web site.
The A-List feature is in testing now, but it rolls out to the masses on September 20.