At a press event in San Francisco on Wednesday, Apple unveiled new versions of its venerable iPod classic and iPod shuffle models. The refresh came amid several other announcements including the release of iPhone OS 3.1, iTunes 9, new iPod nano and iPod touch models.
iPod classic
The iPod classic gains storage capacity — 160GB of storage space on a tiny hard disk drive, 40GB more than before, for the same price – $249.
The refreshed iPod classic shows that Apple still recognizes a market for the venerable iPod based on the original iPod's industrial design, eight years later.
It's also an indication that flash media storage space continues to be too high-priced compared to the highly portable hard drive Apple continues to use in the iPod classic design.
iPod shuffle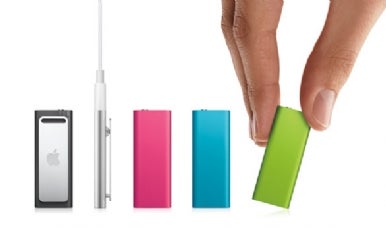 Physically unchanged from before, the 2009 iPod shuffle comes in new colors: black, silver, pink, green, and blue. The iPod shuffle comes in 2GB and 4GB capacity for $59 and $79, respectively. A new "special edition" 4GB model made of polished stainless steel will set you back $99.
Answering critics of the previous iPod shuffle design which moved the shuffle control on to the cord, Apple says that it's working with third-party headphone makers to integrate the controls into their designs as well, and that adapters are also available with more on the way.