Madden NFL 10 iPhone features real teams, real players, and every NFL stadium. If you want to see Drew Brees battle the San Francisco 49ers at Candlestick Park, this is your game. If you want to draw your own plays, master the nickel defense, and make a strategic quarterback change, you only need to make a few taps and you're ready to go.
After a year of development, Madden NFL 10 looks to be one of the best sports games to the come to the iPhone. Electronic Arts has clearly put in time with this product to not only give players a fun and intuitive sports simulator, but also ensured the game stayed true to the Madden franchise's lofty standards.
I sat down with Jeremy Gross, producer of Madden NFL 10, and Chris Dreyer, the product manager for the title and they walked me through the game.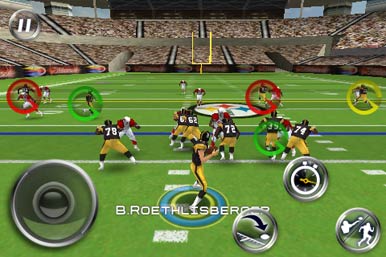 Seasoned veterans of the series will appreciate that Madden NFL 10 features commentary from John Madden himself, deep rosters of every team, and over 200 plays on offense and over a 100 on defense. Dedicated players can enjoy the season feature and play an entire season as their favorite team. There's also a multiplayer feature in development and a soundtrack that features five songs from the console version of the game. You can also load songs from your iPhone to create your own soundtrack. So if you want to listen to Kiss's "Detroit Rock City" while you play as the Lions, you can.
Casual players will be drawn to the game because of its intuitive interface and controls. iPhone games are ideally suited for short play sessions, and EA astutely determined that the game should save after every play. So if you ever have to stop and exit the game for whatever reason-receiving a phone call, for example-you can resume your game where you left off. You also won't be penalized for delay of game if you have to leave the game for a while or take longer to decide what play to call, explains Gross.
Controlling your team is surprisingly easy. The Madden franchise has become such a deep, rich, and complex sports simulation series that it can often be unapproachable to new players. But EA has done a masterful job of translating the various nuances to the iPhone's unique control scheme.
With just a flick of the finger, you can sort through what teams you'd like to play and what plays you'd like to call. I selected my hometown San Francisco 49ers to play against the Oakland Raiders in a little Bay Area exhibition. After I received the ball and was quickly tackled, I started on offense. I quickly selected a play with a flick and a tap and then I decided to reverse it and create my own "hot route." Dreyer and Gross are particularly proud of the "hot route" feature that allows the player to draw a new route for the players by dragging their finger across the touch screen.
I ordered my wide receiver into a deep route and then hiked the ball. A color-coded reticule indicates which receivers are open, and I quickly tapped on my wide receiver who I had previously sent deep. He caught the ball for a thirty-yard gain and a nice first down. I would have felt a greater sense of accomplishment, but a 3rd grader in a cast could beat the Raiders secondary.
Utilizing running plays is just as easy. You can tap a button in the corner of the screen to slow down time for your ball carrier. You can then decide if you want to juke, spin, turn, etc. It's a nifty feature to break tackles and really puts you in the shoes of the player.
Despite my potent passing abilities, my quarterback held the ball too long on a third and short and I was forced to settle for a field goal. The kicking system should be easily recognizable to fans of EA's sports games. According to Jeremy Gross, it's the same finesse power system used by the Tiger Woods series of golf games. Now instead of swinging the club, you can time the most powerful and accurate kick. On my first try I kicked it through the uprights and nabbed three points. For such a small part of the overall game, I walked away impressed with the level of detail EA had put into the kicking feature.
Madden NFL 10 has all the makings of a great iPhone game and an application that is true to the source material. The game is available today for $8 in the iTunes Store, but will revert to its standard price of $10 at 8:30 pm EST on September 10.
In addition to multiplayer on the horizon, EA is working to bring roster updates and "authentic jerseys" to the game via in-app purchasing in a later update.
[Chris Holt is a Macworld assistant editor.]