Apple CEO Steve Jobs took the stage at an event on Wednesday to introduce new iPod products, his first public appearance after taking a long medical leave of absence.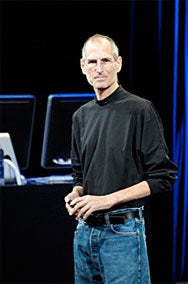 "I'm very happy to be here today with you all," Jobs said to a standing ovation.
"As some of you may know, about five months ago I had a liver transplant, so I now have the liver of a mid-20s person who died in a car crash and was generous enough to donate their organs, and I wouldn't be here without such generosity," Jobs said. "So I hope all of us can be as generous and elect to become organ donors."
He thanked the Apple community for "the heartfelt support I got, it really meant a lot." He also thanked Apple Chief Operating Officer Tim Cook, who handled Apple's day-to-day operations in Jobs' absence, and the rest of the Apple executive team, who he said ran the company "very ably in that difficult period."
Jobs took a six-month leave of absence earlier this year because of health issues. He received a liver transplant at the Methodist University Hospital Transplant Institute in Memphis, Tennessee. He returned to work on schedule at the end of June.
"I'm back at Apple, loving every day of it," Jobs said at the event. He sported a slim look, but said he was in good health and already working to introduce new products.
When explaining his leave of absence earlier this year, Jobs said he was diagnosed with a hormone imbalance that caused him to lose weight. The health-related issues were "more complex" than he originally thought, Jobs wrote in a memo to Apple employees at the time. However, questions remained about whether Apple revealed the full extent of his health condition.
Jobs' presence in Apple's daily activities should ease questions in investors' minds. Earlier, investors questioned Apple's decision to hold back information surrounding Jobs' medical condition. Prominent businessman Warren Buffett attracted attention when he disagreed with Apple for not releasing what he considered a "material fact" for the company.
Jobs is also a survivor of pancreatic cancer.