As is the tradition at its iPod-themed press briefings, Apple opened a demo area to show off the new hardware announced just minutes before at Wednesday's Rock & Roll event. As you might imagine, much of the activity centered on the area where the new iPod nano was on display. Fast though the third-generation iPod touch may be and nicely shiny the iPod shuffle SE, the fifth-generation iPod nano offers tangible—and, Apple hopes, desirable—new features.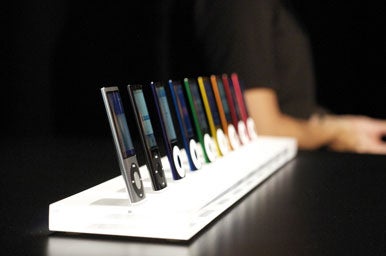 As spelled out by my colleague, Dan Moren, the new iPod nano comes in nine vibrant colors (silver, black, purple, blue, green, orange, yellow, pink and [Product] red), ships in 8GB and 16GB capacities (priced at $149 and $179 respectively), and bears a camera and external microphone mounted on the lower back of the iPod. The screen is larger at 2.2-inches, but not so much larger that owners of fourth-generation iPod nanos are going to feel like their music players are inadequate in comparison.
Video
In person, the new nanos are just as sleek as their predecessors, but with a more lustrous finish. Although the camera and microphone look a little like they were tacked on, they're positioned in such a way that you're unlikely to block the lens with your thumb or finger.
An Apple representative showed me a couple of the 15 special video effects—Cyborg and Security cam—and they looked like they'd be a fun addition for the YouTube crowd. They're easy to initiate—just choose Video Camera from the iPod's main menu and press and hold the Center button. The effects appear in a grid that you select by scrolling your finger across the clickwheel. Find the one you want and press Center again—you're ready to shoot. These effects are applied to the video as you shoot so you can't remove or change them from the recorded movies.
When it comes to the camera, Apple is emphasizing the concept of "fun"—that was the thrust of my conversation with the Apple rep Wednesday. While comparing the nano's slim design to the bulk of today's pocket camcorders, he readily admitted that the nano's video isn't high-definition. (It shoots 640-by-480 H.264 video in portrait or landscape mode.)
Radio
When Steve Jobs announced that the new nano would bear a radio, a few of the media types around me reacted with a "Huh?" Face it, radio is strictly old school. But Apple's implementation has brought a nice twist to it. Instead of just playing the radio, you can pause it and record the next 15 minutes in a buffer. This is handy when you're in the middle of listening to a great tune or talk program, need to break away for a bit, and want to pick up where you left off.
You can choose from a variety of radio bands—U.S., Europe, and Japan, for example—and you must have something plugged into the iPod's headphone jack for the radio to work (the headphones' cord acts as the antenna).
Pedometer
The pedometer is another nice looking addition to the new nano. It's not, however, a replacement for the Nike+ hardware. The pedometer measures the steps you've taken—a bump will count as a step as far as the nano is concerned. The Nike+ hardware uses your stride length (as you calibrate it) and makes calculations based on those strides.
We're looking forward to getting an iPod nano of our own to give a full review of the new features in this latest model.
[Christopher Breen is a Macworld senior editor.]
Note: When you purchase something after clicking links in our articles, we may earn a small commission. Read our affiliate link policy for more details.