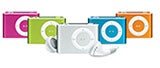 When Apple updated the iPod shuffle in March to its present 1.8-by-0.7-by-0.3-inch form factor, it kept around the colorful second-generation model. Presumably, Apple did that for more than just kicks—retaining the 2G shuffle let Apple continue to offer a model whose form factor, size (1GB), and we're-practically-giving-them-away price tag of $49 doutblessly appealed to a significant enough segment of the market.
Well, Apple has rejiggered its shuffle offerings along with the rest of its iPod lineup. And, as John F. Kennedy once said in a context that almost certainly had nothing to do with gumstick-sized music players, let the torch be passed to a new generation.
The arrival of color-coordinated shuffles in 2GB and 4GB capacities also means the end of the line for the second-generation lineup. The 2G shuffle is gone from Apple's online store and will almost certainly disappear from the brick-and-mortar outlets just as soon as supplies give out.
The reason? Well, the 2G form factor had been around since 2006—not exactly the tech equivalent of the 2,000-Year-Old Man, but not exactly a spring chicken either. And it's not as if Apple is turning its back on the cheapska… er, bargain-minded consumer with its latest shuffle. At $59, it's not that much more expensive than the remaining 2G offering and with twice the capacity to boot.
As to whether the loss of the one shuffle model that actually offered buttons is something to be mourned, well, that's a matter for your own aesthetic conscience.
[Hat Tip: Engadget ]