Media and user reaction to Wednesday's Apple "Rock and roll" event has been pretty much what it is for most Apple events: full of shock that unlikely rumors didn't actually come true and disappointment that what Apple announced was nice, but hardly earth shattering.
But think of the event from Apple's perspective. Think in terms of red and green. As in Christmas colors. Or as in red stockings stuffed with iPods and big green wads of cash. Because Apple's fall iPod event, which pretty much happens this time every year, is about one thing: priming the pump for holiday iPod sales.
I'm not sure if most people understand just what the holiday quarter means for Apple, financially. In 2008, Apple brought in $10.2 billion in sales that quarter, 25 percent more than the average of the previous three quarters. In 2007, it was $9.6 billion, a 41 percent jump. In 2006, $5.7 billion, up 38 percent. Or view it in terms of iPod sales: In 2008 Apple sold 22.7 million iPods in the holiday quarter, and 32.7 million during the other nine months of the year. In 2007, it was 22.1 million iPods compared to 30 million the rest of the year.
The holidays, whether you focus on iPod units or sheer dollars, are huge for Apple. And the purpose of the fall iPod event is for Apple to tell a story about the products it's going to make available during that period. (It's no mistake that the two most important product announcements at Wednesday's event were accompanied by television commercials.) That's why it's useful to look at this week's Apple announcements through that filter.
Take the iPod nano. The story there is about high-school and college students. That video camera that Apple has added to the back? It's for "fun" use, according to Apple. The quality won't be very good, but it's easy to connect it back to your computer and upload it to YouTube. Apple's TV commercial for the nano is a series of young people dressed in brightly colored clothing doing energetic things while being recorded on video. That's a gift idea, folks.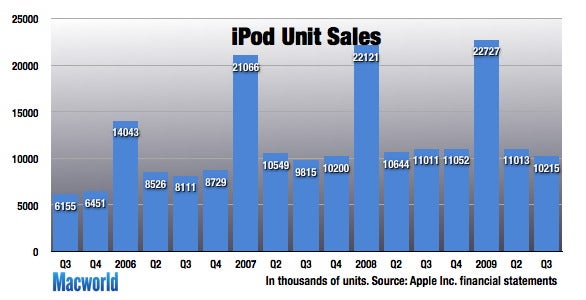 Then there's the iPod touch, which—strangely—doesn't have a camera on it, even though the iPhone and the iPod nano do. Apple's response on that point is best handled by Steve Jobs himself, as told to David Pogue of the New York Times :
Originally, we weren't exactly sure how to market the Touch. Was it an iPhone without the phone? Was it a pocket computer? What happened was, what customers told us was, they started to see it as a game machine. Because a lot of the games were free on the store. Customers started to tell us, "You don't know what you've got here — it's a great game machine, with the multitouch screen, the accelerometer, and so on."

We started to market it that way, and it just took off. And now what we really see is it's the lowest-cost way to the App Store, and that's the big draw. So what we were focused on is just reducing the price to $199. We don't need to add new stuff—we need to get the price down where everyone can afford it.
In other words, sure, the iPod touch with a camera might have been cool. But that didn't fit the story, the concept that Apple can communicate that will sell iPod touch models by the truckload. The obvious story about the iPod touch—and what made it such a huge success last year—is that it's not just an iPod, but an iPod that's also a gaming device. If you're buying a present for a kid (or a kid at heart), why buy a music or video player, or a dedicated game device, when you can get them both? Apple sold a lot of iPod touches with that logic last year, and my money's on it selling even more of them this year.
The big difference between this year's version of the iPod touch story is that Apple's being even more aggressive with its assault on the game market. It attacked the number of games available for Nintendo DS and Sony PSP when compared to the App Store. More importantly, it attacked the average price of the games for those platforms, which are generally sold on physical media and cost a whole lot more than the same games on the App Store.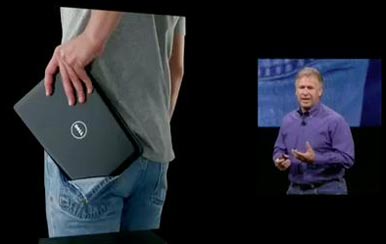 And of course, Apple senior vice president of worldwide product marketing Phil Schiller took the time on Wednesday to fire another salvo in Apple's ongoing war on the netbook. Once again, the company compared its own ultraportable computing device—the iPod touch—to the netbook market by showing a humorous photo featuring a dude trying to stuff a Dell netbook into his back pocket. Zing! But the larger point Apple is trying to make, of course, is that the iPod touch is a product that people will actually want, and that netbooks… aren't.
Though most news coverage based on Wednesday's event will focus on the iPod nano, since it's the only truly new hardware product in the bunch, the iPod touch will continue to be the source of all the growth in Apple's iPod line. Apple has admitted that it's cannibalizing itself as the sales of traditional MP3 players fall, while iPhones and iPod touch models grow. Forty percent of the iPhone OS-based devices Apple has sold have been iPod touches. The iPhone gets huge publicity for having sold 30 million units in a little more than two years, but in almost exactly two years the company has also sold 20 million iPod touches. It's the core of the iPod business, and this holiday season it'll be the star of Apple's line-up.
The less said, the better
Clearly the iPod touch and the iPod nano were the stars of Wednesday's show. The other two models in the iPod family? Not so much. The iPod classic remained in the product line, proving that it is indeed the Rasputin of iPods. With the relentless advance of iPod touch storage space—it's up to 64GB now—it's still only a matter of time before the last iPod with a spinning hard disk drive goes the way of the dodo. Same time next year? But in the meantime, there are still people who want to buy it, and Apple will be happy to sell it to them.
In other news, the iPod shuffle is still being sold. That's about all Apple had to say about the product, which was launched earlier this year and is therefore in pretty good shape. The shuffle gained some new colors, and in his presentation, Schiller seemed to nod toward criticism of the product's no-button design by pointing out that many third-party companies are designing and shipping headphones and adapters that are compatible with all current iPods and required by the shuffle.
A new iTunes
In terms of new features, the meatiest announcement on Wednesday was actually iTunes 9. Apple cleaned up a lot of its syncing features—between both devices and computers—though I'm not sure its revamped web-like approach to the iTunes Store is a good thing. It'll certainly take some getting used to.
But once again, the big goal of iTunes 9 seems to be improving the iTunes experience for new iPod users, making it easier to get their music and videos and even iPhone apps where they want them to go. Genius Mixes are an attempt to further the good work of the original Genius feature, which is to expose deeper tracks in your music collection and reduce the amount of work it takes to get a nice stream of music going.
Memorable moment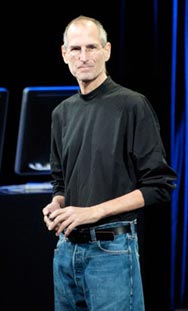 For all the importance of Wednesday's event to Apple's holiday iPod sales, though, it served a higher purpose: It marked the re-emergence of Steve Jobs to the public eye after his well-publicized liver transplant earlier this year. Rather than hide Jobs from the public, which probably would have started another round of "Just how sick is Steve Jobs?" rumors, Jobs showed up in public, thin as he was last year, and addressed the issue.
Jobs is a ferociously private person, and I'm sure he wasn't thrilled talking about himself on that stage Wednesday, but he did it, and with aplomb:
I'm very happy to be here today with you all. As some of you may know, about five months ago I had a liver transplant. So I now have the liver of a mid-20s person who died in a car crash and was generous enough to donate their organs. And I wouldn't be here without such generosity. So I hope all of us can be as generous and elect to become organ donors.

I'd like to take a moment to thank everybody in the Apple community for the heartfelt support I got, too. It really meant a lot. And I'd also especially like to thank Tim Cook and the entire executive team at Apple. They really rose to the occasion and ran the company very ably during that difficult period.

So I'm vertical, I'm back at Apple, loving every day of it, and I'm getting to work with our incredibly talented teams… So it's wonderful.
That's the biggest news most of us will probably take from Wednesday. That Steve Jobs is back, not just at Apple, but in the public eye. But for Apple, the event was more about the bottom line, and its success or failure will be measured not in the reaction of pundits or even Wall Street, but in the number of iPods sold between October 1 and December 31.