Ever sing along to a song, only to realize you're mumbling through half of it because you only know part of the lyrics? If so, give TuneWiki a try. Once available only for jailbroken iPhones, TuneWiki serves as a media player and song lyric database.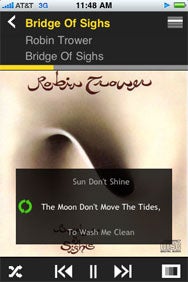 When you start up a song on your iPhone or iPod touch, open TuneWiki. The app automatically brings up the song while its lyrics scroll down the screen karaoke-style. The free app provides the standard iPod controls so that you can pause, skip and rewind without leaving the app. (If you want, you can use TuneWiki completely as a substitute for the iPhone app, but I found its browsing and searching features somewhat spartan.)
Sometimes the lyrics can be a little quirky. For example, certain songs will display lyrics that do not auto-scroll. In this case, TuneWiki asks you to manually advance the lyrics by tapping on the screen in time with the music. Apparently this data gets sent back to the TuneWiki Mother Ship and will help start those lyrics auto-scrolling one day. In other cases the app won't display lyrics at all, which is understandable; one can't expect TuneWiki's database to store every known song. (That said, TuneWiki has licensing deals with many of the major record labels, so its database is probably quite large.) Most of TuneWiki's features rely on having an Internet connection, so iPod touch users without a Wi-Fi connection are out of luck. The lyrics feature seems to work fine on Wi-Fi and 3G, but it can lag somewhat on EDGE.
Besides playing your own music collection, the app can also stream music from Internet radio stations and display the lyrics to those songs in real time, too. Its index of Internet radio stations is quite large, and the song lyrics display about as well as on local music tracks. TuneWiki also lets you search YouTube for music videos, but there is no lyric functionality, so it doesn't provide much more than the built-in YouTube app.
TuneWiki also has some interesting community-related features. The app allows you to "blip" the tracks you're listening to, which will post the song/artist name to the TuneWiki website, Facebook, or Twitter (or any combination) along with a short comment, either a canned one or one you type yourself. You can also "map" the current song, which displays a world map with pins showing where others are listening to the same song.
I have mixed feelings about TuneWiki. On one hand, I like being able to view song lyrics, but oftentimes I want to view the entire lyric, not have it fed to me one line at a time. The TuneWiki Web site does provide access to complete song lyrics, but my results have been mixed. The artist index is difficult to navigate and the search function can be quirky. Once you do find an entire song lyric (either at TuneWiki or another lyric Web sites), iTunes provides a place where you can store it. This info syncs to your iPod/iPhone, where you can view it without an Internet connection.
Despite a few shortcomings, TuneWiki provides a quick and easy way to listen to streaming media, view song lyrics and share your musical taste with your network. Considering it's a free download, it's worth your while to give this app a try.
TuneWiki is compatible with any iPhone or iPod touch running the iPhone 3.0 software update.
[Brian Beam is a musician, web developer and partner with BOLD Internet Solutions, living somewhere near Kansas City.]