If you're like me and you have a house full of music lovers, you may be interested in Home Sharing, a new feature of iTunes 9. It lets up to five computers in a single household share movies and music files more easily.
I'm one of four people in my five-person household with a computer and a unique iTunes library. My wife, my two older kids, and I each have unique tastes in music, but there's enough commonality that we occasionally like to poach stuff from each other's music collections. My son's tastes bend more towards some of the high-energy electronica I like, while my daughter occasionally finds some of my wife's Japanese pop collection entertaining.
Up to now, we've all been able to share our libraries with each other, but that's only useful for streaming content from one iTunes library to another. That's great when my daughter wants to listen to Bespa Kumamero's "Plastic Confusion" from my wife's library. But if Emmeline wants it on her iPod shuffle, or wants to be able to listen to those songs when her mom's iMac is turned off, she'd have to physically go to Bonnie's iMac and copy the files, then sync them to iTunes on her own iMac.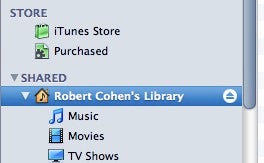 Home Sharing introduces a much easier way to manage this process. Home Sharing enables up to five machines in the same household to share audio and video files, as well as iPhone or iPod touch applications, directly over the network. Podcasts, playlists, audiobooks—they're all shared. See something you like in someone else's library? Drag it and drop it into yours—it's that easy.
Read more…
Finally, built-in synchronization!
My wife and I have a lot of overlap in our libraries. I regularly pilfer music from hers and she does the same from mine. So for us, it makes a lot more sense to stay in sync. And here where Home Sharing really comes in handy.
Clicking a popup menu at the bottom of the iTunes window I'm able to view files that aren't in my library. That's terrific for my wife and me, because we have a lot of overlap between us, but there are certainly songs we don't share. Now I can see what she's been keeping from me, and copy that material at a glance.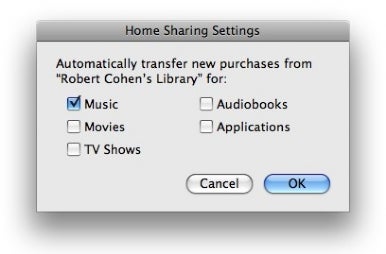 Clicking the Settings button shows you the true power of Home Sharing. Here's where I can tell iTunes to automatically transfer new purchases from other users' libraries to my own computer. I can specify music, movies, TV shows, audiobooks and applications, so I can always stay in sync with my wife and kids.
Some drawbacks
There are still a few drawbacks to Home Sharing. Perhaps the biggest is that, in our early testing, the automatic-transfer feature works only with content purchased from the iTunes Store—music you've ripped from CDs or purchased online from Amazon or eMusic, for example, appears in Home Sharing but isn't automatically copied.
Also, what happens when the other computers in my household are offline? If I've synced content, that's fine. If I haven't, well, I'm out of luck until the next time that computer is on. And the settings help me synchronize content I've purchased from the iTunes Store, but I don't use the iTunes Store exclusively—I buy content from different sources.
What's more, I can't exclude certain types of music or video content. My wife may not be very interested in that collection of Mongolian throat-singing I just downloaded from iTunes, but if she's syncing to my library, she's gonna get it. Even if she has to delete it manually. Likewise, if my son downloads the latest South Park episodes on his computer … well, I like South Park, so that's okay.
Home Sharing is also linked to a single iTunes Store account. That hasn't caused any problems for my home as we all use "my" account to buy our music. This could create confusion for several different users each with own iTunes account who are trying to share files.
Early analysis suggests that iTunes 9's comparison of libraries relies on the metadata included for each track. So if you're pickier about artist, album or track names than other people in your house, iTunes 9 may end up duplicating songs in your library. A small price to pay from proper grammar and spelling in song titles, I say.
Last, Home Sharing only works on the same network. You can't, for example, sync libraries between your Mac at home and your PC at work. The presumption here is that this is something for families or roomies who would be working off the same Wi-Fi and the same subnetwork as each other.