For years, I've written articles warning people away from installing prerelease versions of Apple operating systems. Sure, beta season is exciting, what with Apple unleashing brand-new features that promise to transform your Mac, iPhone, or iPad. By downloading a beta, you can live in the future–today!
But the price… is bugs. And incompatibility. As Macworld's Michael Simon wrote last week, if you're patient, you'll get what you want this fall, and without spending a summer complaining about bugs and bad battery life.
But I've changed my tune about public betas. You might not want to throw caution entirely to the wind, but it's the summer of 2023, and I think if you want to install an Apple beta, you should just go ahead and do it. Really.
Apple says it's okay
Back in the old days, betas were only available to developers and members of the press, and our warnings about regular users venturing into beta territory felt proper. Things could get weird during beta season, especially in the earliest days of macOS and iOS, when fundamental parts of the operating system would be entirely overhauled from version to version.
Apple
But in 2014, things started to change. That's when Apple announced a public beta program for OS X Yosemite. The next year, Apple did the same for iOS 9.
On the most fundamental level, for eight or nine years, Apple has been perfectly happy to supply OS betas to anyone who wants to use them. Sure, if your best friend told you to jump off a bridge, you shouldn't do it, but we need to acknowledge that Apple has spent nearly a decade building a system where regular users can try out the new stuff.
Apple wants your help
I am not making this up: As I was writing this story, I got an email from Apple's Beta Software Program notifying me of the fact that public betas are now available for me to download. (Aw, shucks.) Yes, Apple's doing promotional emails in order to drum up interest in the public betas!
Sure, there's a bit of marketing involved here. But Apple also benefits from the public betas on the technical side. The pool of Apple employees and independent developers is relatively small and probably quite homogenous. It's entirely possible that Apple could go all summer long with undiscovered bugs, all because the people testing the software weren't the kind of person who would come into contact with that bug.
Apple wants feedback for OS betas from real users. So much so, in fact, that it built the Feedback Assistant app that's available on every OS beta. As that email I just received put it, "As a member of the Apple Beta Software Program, you can help shape Apple software by test-driving prerelease versions and letting us know what you think."
Right now is the best time of the entire year for you to tell Apple about the stuff you dislike, that doesn't work right, and that will make you unhappy for the rest of the year. Sending in feedback via the Feedback Assistant can sometimes feel like shouting into the void–Apple may never respond!–but it's also the only open channel it has provided to the general public for detailed feedback about its software.
If you want to run the betas, that's great–but don't forget to take advantage of that fact to send messages to Apple about anything you see that isn't working right. It just might make your life, and the life of many other users, better.
Apple wants you safe
I feel my natural instinct rising, the one that makes me want to warn people about using beta software. The truth is, betas have bugs and you might encounter some. Guess what? Non-beta software has bugs, too! Software is never finished. Bugs are annoying, but during beta season, there's an entire engineering team being deployed to squash them. From update to update, bugs come and go (and sometimes come back), but they're rarely show-stoppers.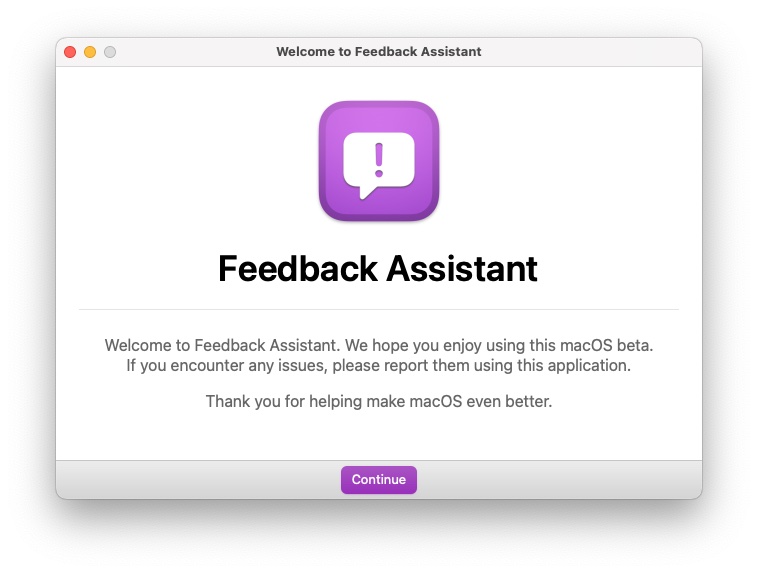 Also, Apple really doesn't want to inflict terrible bugs on the general public. So it tends to keep the public beta releases of its software a little bit behind the releases that go to software developers. This is an extra line of protection because if something is really broken, Apple can discover it as a part of the developer-beta release and fix it before the public release appears.
This probably happened right before the release of the first public betas this year, in fact: Apple released its third developer betas… and then a week later released new versions of the "third" developer betas, with different build numbers. Why would it do such a thing? The most likely answer: something broke and the company wanted to fix it before releasing the public beta.
Today, I only have one serious warning to give you before you download and install public betas: be sure that the software you rely on to do your job is compatible. There's a really nice wiki list on MacRumors for macOS apps. As a podcaster, I'm currently unable to use one of my most important apps due to an incompatibility. I checked this ahead of time and made sure I had a second Mac I could use to do my job–and if I didn't have that second Mac, I would not have updated to the beta. (Also keep in mind that Mac users, unlike iPhone and iPad users, can install the new operating system on a separate drive or partition and boot back and forth between versions.)
So be safe before you take the plunge. But if you want to join us in the beta life, just go ahead and do it. It's fun here. We're putting widgets on our desktops and editing our contact cards and inserting confetti drops into our Zoom videoconferences. Join us, won't you?