Mobile devices may help you take your productivity act on the road. But the ability to edit documents, presentations, and other files is of limited use if you're unable to easily share and collaborate with colleagues.
That's the idea at Box.net, at least. And the online business information-sharing and collaboration service wants to do something about it—on Thursday, Box.net unveiled a new OpenBox Mobile program aimed at iPhone developers. Under the program, app makers will able to integrate Box.net's content management and collaboration platform into their App Store offerings.
"We want to make it easy to share, manage, and access content from anywhere," said Sean Lindo, a Box.net community manager.
Say you're using the Smart Recorder voice-recording app to record a brainstorming session, and you want to make that recording available to a colleague who couldn't be there. The Box.net integration in Smart Recorder lets you upload the file to the online service for archiving; from there, you can share it with others who can then download the file for themselves.
Box.net "is a central place where different apps can access the same content and access that content from different devices," Box.net CEO Aaron Levie said.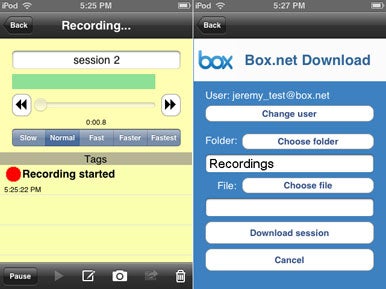 For developers, Levie adds, "we've created an interface and API that makes [sharing and accessing content] trivial." As for end users, Box.net integraion creates apps that offer more interaction with other users and greater useability.
Besides Smart Record, several apps already feature Box.net integration, including the iThoughts and iBlueSky mind-mapping programs, and Readdle's ReaddleDocs file viewer. And Box.net says other apps— Quickoffice, iRec, JotNot, and mySticky—will add integration soon.
Developers who want to integration the service into their apps can sign up at the Box.net Web site. There, they can review documentation for the free OpenBox Mobile API and sample code for mobile integrations.
Box.net, which makes an iPhone app of its own, is focusing on the iPhone for now with its OpenBox Mobile initiative. The company plans to bring it to other mobile platforms, including Palm webOS, Android, and BlackBerry.