At a Glance
Expert's Rating
Pros
Fast and responsive
Reliable performance
Intuitive to use
Lightweight and compact for an APS-C sized sensor DSLR
Cons
Distinctly plastic construction
Tilting screen stiff and awkward
Image noise visible at higher ISO sensitivity settings
Our Verdict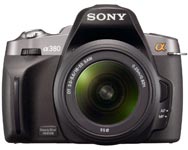 Thinking about upgrading from a point-and-shoot camera to a digital single-lens reflex (SLR) for the first time, or simply want a relatively lightweight and compact SLR as a backup your main SLR? Though Canon and Nikon have long dominated the SLR world, Sony has become a viable alternative.
Sony's new 14.2-megapixel Alpha A380 does battle with similarly priced SLRs like Nikon's D5000 ( ), although the A380 lacks the video recording functionality that the D5000 has. Like the D5000, the A380 is targeted at family users and enthusiastic amateurs. I reviewed the kit that includes a 18 to 55 mm zoom lens. Sony also has a two-lens kit that has the 18 to 55 mm lens and a 55 to 200 mm lens for $1050.
The A380 is a fairly compact SLR that is easy to use and feature packed. Chunky controls, well-labeled buttons, and a comfortably lightweight body ensure that the A380 will appear less threatening to anyone picking up a SLR for the first time. However, despite the overall feeling of robustness, the plastic nature of the finish is an initial disappointment.
The A380 features a tilting LCD screen that can be angled up or down for either low or high angle shooting, a feature shared with its D5000 rival. Unfortunately for the A380, the D5000's LCD has an edge: its LCD offers greater flexibility by having the ability to rotate left or right. The A380's LCD also feels a bit stiff.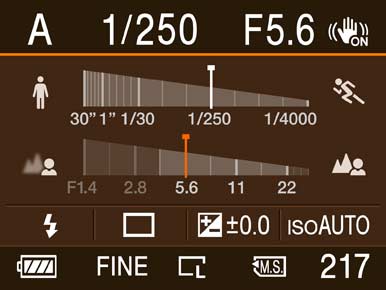 On a positive note, the A380 uses a graphical interface showing key shooting information. As you navigate through the interface, an on-screen guide explains, by way of brief text speech bubbles, what the different settings do. Thus, this is a camera that you can familiarize yourself with without constant recourse to the manual, and such help can be deactivated via the menu system once experience grows. The info display also cleverly flips 90 degrees if the A380 is turned on its side for portrait shots, while an eye-level sensor switches the LCD off if the optical viewfinder directly above is in use. The Live View feature (where the LCD can be used for shot composition as you would on a point-and-shoot camera) is also impressive as an alternative to the slightly murky optical viewfinder.
However, using the LCD sucks up power. With a fully-charged battery, the A380 was able to shoot just 230 images while using Live View. When using the viewfinder only, the battery lasted for 500 shots.
The A380 will automatically determine focus when it detects that the photographer's eye is level with the viewfinder, so the shutter release is ready to be fired immediately. And, with a single press of the AF button on the A380, the camera will continue to automatically determine focus for the user if required.
Pictures from the A380 set at its automatic settings were evenly exposed, with natural colors. There are also pre-optimized Creative Style settings for those who prefer a more vivid look. We weren't convinced, however, that the supplied kit lens made the best of the sensor's high pixel count, with detail softer than we expected.
Raw, JPEG, or a combination of both file formats are written to either Sony's own Memory Stick memory cards or the more widely used SD cards. There are slots for both, with a sliding switch to specify which one you want to record to, as the camera doesn't automatically choose.
Specifications
| | |
| --- | --- |
| Resolution | 14.2 megapixels |
| Focal length (35mm equivalent) | 18mm to 55mm |
| Battery type | Rechargeable lithium-ion |
| Media slots | 2 (Memory Stick, SD) |
| Size (width x height x depth, in inches) | 5.0 x 3.8 x 2.9 |
| Weight (in ounces) | 17.1 |
Along with the innovative, Sony has also included some odd features on its flagship consumer SLR. A case in point is the dedicated button for a "smart teleconverter" that digitally crops into an image when your own lens won't stretch that far. Since this is utilizing only a portion of the image, overall resolution inevitably drops. Strange, as the A380's otherwise higher-than-average resolution is surely one of its greatest selling points. Incorporating some form of video capture might have been a better bet by way of an additional attention grabber.
Macworld buying advice
SLR newcomers who are easily intimidated when trying to use a camera more complicated than a point-and-shoot may find the Alpha A380 a lot easier to use than other SLRs. But with the disappointing plastic build and lack of video capture, you might be tempted to look elsewhere.
[Gavin Stoker is a freelance contributor.]