Late last fall, Macworld reviewed the first release of WriteRoom, an über-notes app that offered font and workspace customization and the option to use a Web browser to edit documents stored on your iPhone.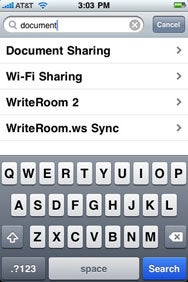 WriteRoom from Hog Bay Software is definitely a great notes application, but I find that I use it for far more than simple notes. I'm using it to edit documents when I can't get to my Mac and creating new documents when necessity requires. In fact, I'm writing this updated review using WriteRoom right now.
In the ensuing 10 months since we last looked at WriteRoom, the app has seen a major update. New to WriteRoom 2 is a revamped fullscreen mode that's even fuller than before. Swipe your fingers across the screen, like you're zooming in on a picture, and you'll lose the current document's title bar and the iPhone's status bar, giving you an extra three lines of visible text on the screen.
There's also a new search tool that lets you search for and find every document that contains your search text. Finally, WriteRoom 2 has added true synching capabilities via a Google Apps engine-based service called WriteRoom.ws. While this service is still in beta, it offers synching, Web-based document editing, storage, revisioning tools, a tool for resolving conflicts between different versions of synched documents, and the ability to edit documents on your phone or desktop computer without requiring Wi-Fi access.
My only complaint about WriteRoom is the ease with which you can accidentally delete a document while using the program's Actions menu. An accidental tap can wipe a document off your phone, with no warning at all when all you intended to do was e-mail, rename, or check the document's statistics.
WriteRoom 2 is compatible with any iPhone and iPod touch running the iPhone 3.0 software update.
[Jeffery Battersby is a writer and IT Manager for a New York-based law firm.]