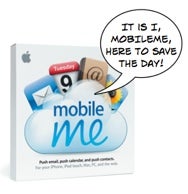 In the past week, Apple's brought the new shiny to iTunes 9, Snow Leopard, and its iPod line. But the update train doesn't stop there. On the sly, the company also beefed up some of the features for its MobileMe online service.
If you're an iPhone user who's upgraded to the new 3.1 software, you've already heard about the new feature that lets you remotely set a passcode on your device via MobileMe's Find My iPhone service. That's not the only change, though: should you be looking for your iPhone around the house with the "play a sound" option of the Find My iPhone feature, you'll now find that Apple—not unlike Christian Slater—has pumped up the volume. The ringer now sounds at its maximum level instead of its curent ringer volume.
In addition, MobileMe has also added the ability for subscribed calendars in iCal to automatically sync with iPhone and iPod touch. Unfortunately, if you've set up a CalDAV account in iCal, it won't sync to your device. Those setting up MobileMe accounts on their iPhones or iPod touches will also now find they can merge Bookmarks with those that are already on their device.
Running Snow Leopard? There's even more for you to like. The frequency of data-change alerts during syncing has been reduced, and you can even set a threshold for how much data has to be changed before an alert is displayed. The Advanced settings in MobileMe's Sync tab allows you to choose from more than five percent, more than 25 percent, more than 50 percent, or any change. (You can also disable the alert entirely).
Under the MobileMe pane's iDisk tab, Snow Leopard users will find a new option to let them automatically resolve conflicts by keeping the most recent version of a file. Better yet, the Conflict Resolver now includes Quick Look support, so you can check the contents of the file before deciding which one to keep. Automatic sync reliability has been improved, and—wait for it—the Sync menu item "extra spins" whenever the iDisk is syncing. A-mazing.
If you've managed to get the extremely persnickety Back to My Mac service working, you can connect to a sleeping Mac via it, as long as that computer has Wake For Network Access enabled in its Energy Saver preference pane. (You'll also need a compatible AirPort base station or Time Capsule, but then again, if you've gotten Back to My Mac working, you probably have one.) In addition, you can publish movies created or opened in the new QuickTime Player directly to your MobileMe Gallery.
Windows users aren't left out either, if they've upgraded to the MobileMe Control Panel 1.5. They can now make existing MobileMe calendars their default Outlook calendar. Apple's also fixed problems that incorrectly reordered bookmarks synced between Safari and Internet Explorer, and there's now support for Windows 7, which is scheduled to be released next month.
MobileMe is hardly a perfect service, but at least Apple's has shown itself to be invested in regularly updating its capabilities and fixing bugs that crop up. In that sense, it's an immeasurable improvement on the old .Mac days.