While EA's Madden NFL 2010 grabbed the spotlight at the "Rock & Roll" Apple event in San Francisco earlier this week, it's not the only licensed NFL game on the App Store. Gameloft beat EA to the punch several weeks ago with the release of NFL 2010. The results are good, not spectacular.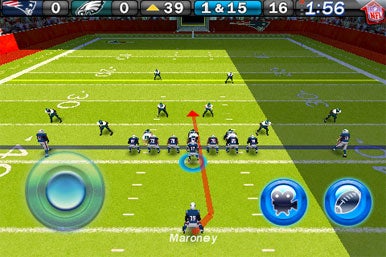 NFL 2010 is a fully-realized 3-D American football game featuring the real teams of the National Football League, complete with full team rosters. And if you find any glaring mistakes, Gameloft has indicated it will fix roster errors in a forthcoming update.
NFL 2010's playbook comprises more than 200 individual plays. Accessing them is managed through a hierarchical display that lets you navigate through your playbook from the top down, making branching decisions by sliding the playbook left or right. Big, ugly, red "back" and "Next" navigational buttons clutter the screen unnecessarily, since you can just flick the playbook up and down, left and right with your finger.
Read more…
Action on the screen is controlled using a virtual d-pad—really, a virtual thumbstick—and the touch screen. The gamestick controls the ball carrier or, during defensive plays, whichever defenseman you've selected. In the case of passing plays, you simply tap on the receiver you want to throw the ball to—they're distinguished by differently-shaped icons which appear green when they're not blocked by the opposing team. Obviously situational awareness on the field is important: Don't throw the ball to a wide receiver who's about to run headlong into a traffic jam, even though his icon is green when you're ready to pass.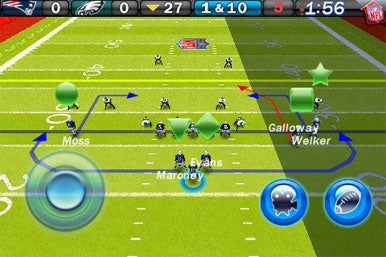 Context-sensitive icons will appear on the lower right hand portion of the screen based on the situation; running with the ball might give you the option of spinning, juking, or steamrolling straight through the defensive line, for example. A crossed ball icon lets quarterbacks throw the ball away to avoid a sack. The same controls work for defensive plays. The d-pad helps you cover a receiver, for example, while context-sensitive icons might let you choose between a deflection or an interception. A "coach cam" icon that appears as teams approach the line of scrimmage lets you review offensive and defensive positions before the snap.
I thoroughly loathe the field goal and punt controls, though Gameloft's implementation is fairly standard: accuracy and power are both set by clicking buttons complete with gyrating meters at the right time. The problem is that you have to reposition the thumbs of both fingers to see the gauges and time your taps. It works better if you're not holding the iPhone, but have it down on a table.
Gameloft's AI isn't spectacular, at least for defensive coverage. Find a team with a weak enough defense and you can score touchdowns with Hail Mary passes indefinitely—they'll never catch on.
Settings let you determine quarter length (increments from 2 to 8 minutes each), difficulty, and your favorite team. You can also disable sound or control music, sound effects and color commentary tracks separately. There's no option to listen to your own soundtrack, unfortunately. You can also turn vibration on and off.
There are four different game modes to choose from: Quick Play, which pits your favorite team against a random opponent; Exhibition, which lets you set up a single game against another team; Season, which has you play through a full 17 week season; and Playoff mode, which takes you through the last few weeks of the season.
Game graphics are somewhat blocky and pixelated but objectively, they look great for an iPhone game. Stadium graphics don't vary, even though the commentator tells me where we're playing at. One nice embellishment are replays, which will take a central role in a forthcoming update that will let you upload your favorite replays to YouTube. (The update wasn't available as I wrote this review.)
Performance, at least on the iPhone 3G, is slow. The game takes an eternity to load and on-screen action isn't as snappy as you might want from a game that requires split-second decision making.
At $3, Gameloft's NFL 2010 is certainly less expensive than Madden NFL 2010, which now costs $10. It's a different game, more arcade-like and with a few interface idiosyncrasies that really detract from the game. (And a separate version, NFL 2010 lets you get a feel for the game by having you replay Super Bowl XLIII again and again.) But NFL 2010 is a lot of fun to play, regardless, and is certain to appeal to budget-minded gridiron fans wound up for another season of football.
NFL 2010 is compatible with any iPhone or iPod touch running the iPhone 2.2.1 software update.
[Senior editor Peter Cohen hopes Tom Brady lasts longer than just a quarter this season.]