One of my favorite features of iMovie '09 is the ability to see all of my stored footage within iMovie's Event Library; versions prior to iMovie '08 revealed only the video for each project.
The downside is that I see all my footage, even the clips I know I'll never use in a movie. To deal with the glut of video that quickly accumulates in the Event Library, iMovie includes features for marking favorite footage and rejecting (and hiding) sections to reduce the clutter, and applying keywords to find related video.
Mark video as favorite or rejected
Do the following to highlight the best (or hide the worst) of your clips.
In the Event browser, drag to select a range of video in a clip. Next, click the Mark Selection as Favorite button on the toolbar, or press the F key; a green bar appears at the top of the selected footage. To mark footage you want to hide, click the Reject Selection button on the toolbar, or press R; that section is hidden. The Unmark Selection button removes any marking.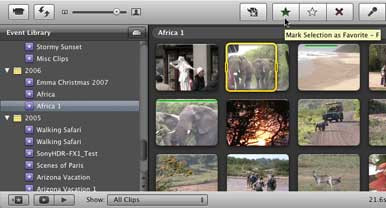 A faster method of marking your footage is possible by turning on iMovie's advanced tools. In the General pane of iMovie's preferences, enable the Show Advanced Tools option. Now, clicking the Favorite Tool (same button, different name) lets you drag over a range of video to mark it as a favorite in one pass, instead of making a selection, clicking the button, making another selection, and so on.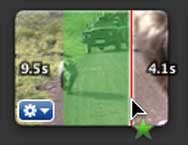 After you've marked up your footage, use the Show pop-up menu to determine what appears. By default, Favorites and Unmarked is enabled, which hides rejected clips. When you're assembling your movie, choose Favorites Only to view only the footage you marked as good. If you suspect you may have rejected a clip you want to use later, choose the All Clips option to reveal rejected clips, marked with a red bar, or choose Rejected Only to hide everything but rejected clips.
Assign keywords
To further organize your footage, you can assign keywords to clips. (This feature is only available when Show Advanced Tools is enabled.)
Click the Keyword Tool on the toolbar (or press K) to display the Keywords window. Enable the keywords you want to apply in the list, then drag your footage to apply them. You can also create your own keywords using the New Keyword field at the bottom of the window.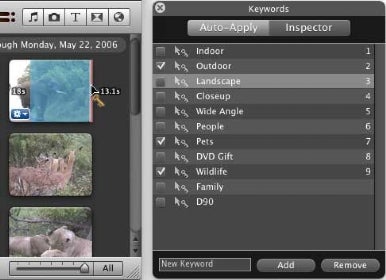 To view clips that have keywords applied, click the button to the left of the Show pop-up menu to view the Keywords Filtering pane. Then, click the green button to the left of the keywords you want represented; the Event browser displays only clips that match the selected keywords.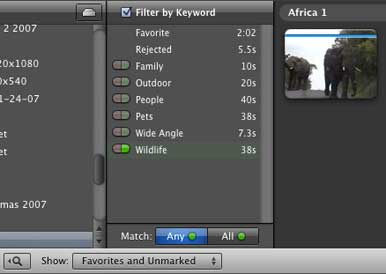 Jeff Carlson is the author of iMovie '09 & iDVD for Mac OS X: Visual QuickStart Guide (Peachpit Press; 2009) and the managing editor of TidBits.