Editor's Note: The following article is reprinted from PCWorld.com.
It seems as if every manufacturer has been trying to emulate the Apple iPod, from product design to the iTunes Store model. Over time, however, this tactic failed: It didn't capture consumers' attention. Rather, eight years after its introduction, the iPod remains the top-selling MP3 player by far. After all the fanfare of Apple's recent Music event, it may be difficult to see how the competition can even stay relevant.
According to Apple, the iPod takes up 74 percent of the portable media player market, with SanDisk at 7 percent, Microsoft at only 1 percent, and 18 percent going to "other" players,.
Given daunting statistics like those, how can that 26 percent of non-Apple players stand out from the giant's shadow? And are Apple's latest introductions to its iPod line enough for the company to maintain its comfortable lead?
Video Camera on the Nano Is a Smart Move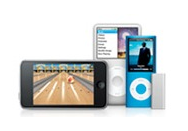 Let's start with the behemoth and take a look at what's new on the iPods. The blogosphere had been buzzing about the possibility of a 3-megapixel camera with video recording on the iPhone touch and nano for the past few months prior to the Music event. If the iPhone 3GS has such a camera, why shouldn't the touch? Surprisingly, a camera went to the Nano—not the Touch.
While I agree that the iPodtTouch deserves a camera as well, I can see why Apple put it only on the Nano. Because of its tiny size, tween appeal, and YouTube connectivity, the Nano is a huge threat to pocket camcorders such as Cisco's Pure Digital Flip series. Apple chieftain Steve Jobs underlined this competitiveness by showing the nano and the Flip side-by-side during Wednesday's event. Apple's nano is the only MP3 player now offering still and video recording—and that's a very compelling feature for a snap-happy audience.
Apple also wisely lowered the Touch's prices. The 8GB Touch is now $200 (previously $230). The company also introduced a 64GB Touch—perfect for app addicts or those who miss the iPod Classic days of carrying your entire music library on your device. The 16GB and 32GB models are also 50 percent faster with feature support for the Open GL|ES 2.0 graphics API. Oh, and speaking of the Classic, it isn't dead yet. Apple upped the capacity to 160GB and is offering it at the same price as the 120GB model, $250.
The Other 26 Percent
Microsoft has taken a different route than Apple. Rather than updating its older models, the company is getting rid of them completely. Microsoft says it will offer its current flash and hard-drive devices, but only until they sell out. I can understand why Microsoft wants a clean start; the Zune, unfortunately, was never taken very seriously as a threat to the iPod.
Until now, perhaps. I think the svelte, eye-catching Zune HD represents a new beginning for the Zune brand, and it shows that its designers are wisely observing their competition and taking steps to innovate rather than emulate. The hardware has some features that the iPod Touch and Nano don't have, such as an OLED touch display, high-definition video output, and HD radio. The revamped Zune Marketplace will house TV and movie downloads as well as downloads (especially games) currently available to the Xbox console.
Microsoft hasn't disclosed any details on pricing, capacity, or available colors, but this information will presumably be forthcoming next week, when Microsoft begins shipping the Zune HD. In light of the iPods' new price drops, however, Microsoft should also price the HD models competitively.
Sony's newest Walkman, the X-Series, is completely different from any model Sony has released before. Also equipped with a 3-inch OLED touch display, the Walkman's video quality is superb. Integrated noise cancellation and a tweakable equalizer gives the Walkman audio quality like no other player I've tested.
Ultimately, Microsoft, SanDisk, Sony, and other portable media player manufacturers know they'll never catch up to Apple in terms of market share, but that's not the point: Those companies are doing something different than the iPod. An iPod isn't for everyone, and it shouldn't be thought of as the only option out there. In fact, Apple seems to have been standing still for a while with its iPods: Beyond the inclusion of the camera and (finally!) an FM tuner, the company has done little to innovate in its audio player lineup, unless you want to count predictable capacity bumps and freshened color palettes.
While the iPod/iTunes' usability and ecosystem are unmatched, these other players have some truly unique features that go above and beyond anything Apple has so far brought forth. Ignore the market statistics and look at the features, specs, and quality of these alternatives, and you'll find a player that's right for you.
When you purchase through links in our articles, we may earn a small commission. This doesn't affect our editorial independence.