Editor's Note: The following article is reprinted from PCWorld.com.
Arguably the biggest announcement of this week's Apple event was the inclusion of a video camera in the latest generation of the iPod nano. That bit of news was only slightly unexpected: Rumors had circulated before Apple's event that the iPod touch would be getting a camera or camcorder. Instead, it was the iPod touch's tiny sibling that gained video-shooting capabilities.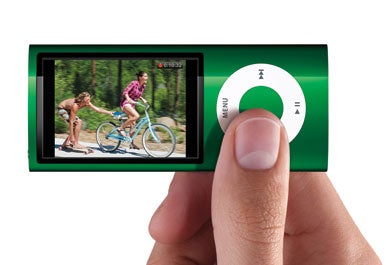 The new Nano shoots standard-definition, 640-by-480 VGA video in MPEG-4 format. Missing from its skill set is the ability to shoot stills; the Nano's camera captures video only. Also disappointing is the fact that you don't get the full range of video-editing features that you do on the iPhone 3GS; on the other hand, you do get a nice range of fun video effects to choose from.
Shooting video with the Nano takes some getting used to. The lens and microphone are smack-dab on the flip side of where your hand would be when you're using the scroll wheel, so if you're shooting in landscape mode, your index finger will tend to make cameo appearances in your videos when you're pressing the iPod nano's center button to start and stop recording. You can also shoot video fairly easily in portrait mode by flipping the nano upside-down. Thanks to the iPod nano's accelerometers, the device automatically reorients the video to portrait mode, and your fingers are less likely to get in the way of the lens.)
To test the iPod Nano's video chops, we shot identical footage with the nano, the standard-definition Pure Digital Flip Mino, and the iPhone 3GS (which has a bigger lens and image sensor). Just to show how the nano's video compared to that of a high-definition camcorder, we also shot the same footage with Kodak's Zi8, which is the first pocket camcorder to shoot full HD, 1080p video.
Here's the tale of the tape. (Keep in mind that source videos often look better before they're uploaded to YouTube.)
iPod nano: Wide-angle test
Pure Digital Flip Mino: Wide-angle test
iPhone 3GS: Wide-angle test
Kodak Zi8 (1080p Mode): Wide-angle test
iPod nano: Video quality test
Pure Digital Flip Mino: Video quality test
iPhone 3GS: Video quality test
Kodak Zi8 (1080p Mode): Video quality test
iPod nano: Low-light test
Pure Digital Flip Mino: Low-light test
iPhone 3GS: Low-light test
Kodak Zi8 (1080p Mode): Low-light test
The verdict
Though the iPod nano's video quality is nothing to write home about, its video camera is a welcome addition. Don't expect to get the same quality as you would from a pocket camcorder, a point-and-shoot camera, or even the iPhone 3GS.
The Nano shoots better video than most cell phones do—as long as you're in a well-lit setting—but it can't quite compete with a pocket camcorder such as Pure Digital's Flip Mino. High-definition pocket camcorders such as the Kodak Zi8 trounce the Nano, but the Zi8 is also the best pocket camcorder I've seen in regards to video quality.
Then again, with the Nano's camera, IMAX-quality movies aren't the point. Apple products are all about fun, convenience, and simplicity, and the addition of a video camera on a device of this size will be a draw for many people.
You'll find a few goodies and surprises in the mix, too: Pressing and holding the center button after you select 'Video Camera' from the Nano's main menu brings up a list of 16 video effects. You can get trippy (Kaleidoscope and Twirl), robotic (Cyborg and Thermal), or classic (Film Grain and Sepia) with the effects, which the Nano applies to your footage as you shoot. That's something we haven't seen in a pocket camcorder yet. The effects menu even previews what your video will look like while you're deciding on a filter to choose.
The lens, though small, also has strengths: It's the widest-angle pocket camcorder we've seen by far, and it also does a nice job with macro shots. Business cards and other objects placed within an inch of its lens appeared sharp in the resulting footage.
In the end, the Nano won't replace a dedicated pocket camcorder, just as a pocket camcorder won't replace a full-size video camera. But the Nano has its benefits, namely ultraportability, fun features, and the fact that it's an iPod. Though its overall performance isn't stunning, the included video camera will only sweeten the deal for prospective Nano buyers.
iPod nano Video Strengths
Extremely wide-angle lens as compared to pocket camcorders.
16 video effects to choose from.
Macro mode is surprisingly good.
Small video-file sizes.
Nano is much smaller than any pocket camcorder on the market.
iPod nano Video Weaknesses
Awkward lens placement.
Shoots only video; no still images.
Bad low-light footage.
Can apply video effects only before you shoot video.