Anyone can record ho-hum video on an iPhone 3GS and shoot it to YouTube. Yet, it's possible to record excellent video that looks crisp and colorful without the typical jerky-camera look. For example, you might want to make a business video of a "talking head" explaining a concept, or a sales demo video showing a product up close and personal, or even just a video blog about a news item of the day.
The following tips and tricks can make your iPhone videos really pop—and garner more attention from your audience of YouTube viewers.
The three main ingredients to a great video are stability, lighting, and sound quality. So, first off, it's important to keep the iPhone perfectly still during video recording. The iPhone is meant for portable video, so–to stabilize a video shoot – I use the portable Joby Gorillapod Flexible Tripod ($22) and the Zacuto Zgrip iPhone Jr. mount ($70), which holds the iPhone and attaches to the tripod. I use the Zgrip because I can re-position the iPhone for the best viewing angle and it works with my much-more-stable camera tripod as well.

Lighting is critical for the best video. I use the Litepanels Micro (around $285) and attach it to another camera tripod. The LitePanel is expensive, but casts a uniform, video-friendly glow across the faces of my video participants–a glow that looks more like sunlight. Of course, if you're not ready to fork over this amount of money, try using a house lamp to boost illumination–and remove the shade for the brightest light. While most light bulbs will cast a yellow-ish light (a good reason to use a photo or video light), you can use your video editor to color correct lighting problems.

With the iPhone, it's hard to get a good viewing angle for video and record sound close enough at the same time. You could try the included iPhone ear bud set for sound, but the cord is not long enough. Another option is the Shure SE210 ear buds ($180) and the Shure Music Phone Adapter ($40), which has a long cord. However, your best approach is to use a Samson Zoom H2 Handy Recorder ($200). Record audio separately, then sync the video and audio in iMovie on your Mac. Just be sure to record a hand clap – with the iPhone video and Samson audio recorder going at the same time, to sync up video and audio.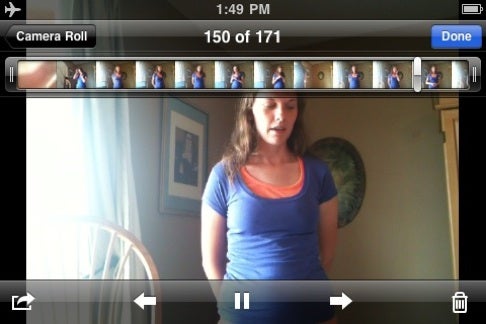 Other video tips: if you are making a business video, you can run a teleprompter on your Mac using NovaStorm AquaPrompt ($15) so your subject can read from a script. Also, be sure to include some pre-roll before and after the video so your cuts in iMovie–or on the iPhone 3GS itself, which supports simple editing cuts–don't look too choppy and awkward. And last, don't forget to smile.
[John Brandon is a 20-year veteran Mac user who used to run an all-Mac graphics department.]