As the amount of storage they provide expands, iPhones and iPod touches have become increasingly useful as a temporary location to stash documents, images, and videos. Rather than fumble around for an easy-to-lose USB flash drive or pay for a small portable disk drive, why not just use the storage you already have and that you take with you on the go?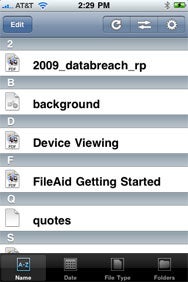 FileAid, a free program from DigiDNA, is one of a number of programs designed to satisfy that desire. While the application offers some nice touches, technical issues make it an unattractive choice.
An app like FileAid should satisfy two basic requirements. First, it should provide an easy-to-use method of moving files between your computer and iPhone—and back again. Secondly, it should be easy to manage and view files once they're on your phone. FileAid comes up short on both counts.
The first issue is something most users should never have to worry about—the protocol used to transfer files to and from the iPhone. For the uninitiated, protocols are sets of rules used to accomplish tasks among computers. FileAid developers chose the File Transfer Protocol, better known as FTP. FTP is one of the original protocols used to communicate across the Internet, making its first appearance in 1980. FTP is dated, and dogged by security concerns, but it gets the job done.
The real problem comes when you try to transfer files to the iPhone. On a Mac, the Finder supports browsing FTP servers and downloading files, but can't upload. You'll need to download, install, and learn another program to get that job done. The entire process is cumbersome, even for advanced users. (On Windows systems, support for FTP is built into Windows Explorer. So moving files back and forth between your iPhone is easier, especially if you're already familiar with FTP.)
Once files are on the phone, FileAid gains some points for its user interface. Several different means of viewing files are provided—by type, date, and name—and it's easy to delete items that are no longer needed. And a recent update added the ability to attach files to an e-mail, a useful feature.
One continuing frustration is the app's difficulty with opening larger files. FileAid frequently runs out of memory, or simply refuses to open large files. To be fair, limited memory on the iPhone can make that task challenging for any application, but FileAid underperforms compared to similar apps.
Given the price—free—more advanced users may be willing to work within FileAid's quirks, but most individuals will be happier with an easier-to-use application.
FileAid is compatible with any iPhone and iPod touch running the iPhone 3.0 software update.
[Dale Gardner is a freelance writer and aspiring photographer who lives in Northern Virginia. You can follow him on Twitter.]