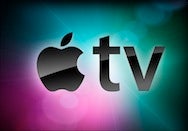 If you thought this month was all about iPods and iTunes, think again. Apple may not have shown any love to the Apple TV during its music event last week, but they did have something in store for their "hobby" as well. Apple has quietly eliminated the 40GB Apple TV from its lineup and dropped the price of the remaining 160GB version from $329 to $229.
A $100 price drop is pretty significant for a device that originally cost $329 and the move is no doubt geared at trying aggressively to move some units during the upcoming holiday season. A price cut at this point also makes it pretty likely that there will be no hardware changes to the device in 2009. It is Apple, however, so you can never be too sure.
I do expect a software update sometime in the near future that brings the device up to speed on iTunes 9 compatibility, though. The new iTunes LP, in particular, looks like it was designed with the Apple TV in mind. And now that you can get it equipped with 160GB of storage for $229, I'm sure you wouldn't mind cramming it with those hefty 500MB iTunes LPs.
[via Mac Rumors]