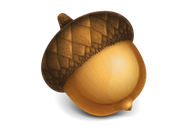 Image-editing programs have long had a hard time competing with the 800-pound gorilla known as Photoshop, but Flying Meat has carved out a sweet spot for itself with its lightweight, inexpensive editor Acorn. The recently released Acorn 2 has even more to offer those who don't need every single little bell, whistle, or kazoo that Photoshop offers.
Among the slickest new features of Acorn 2 is the ability to capture images of your screen where each window resides on its own layer, making it a snap to eliminate the distracting parts of your screenshots. There's also the support for importing RAW images, new tools for Dodge, Burn, Clone, and Smudge, and some other additions to layers, including new blend modes and the ability to group layers into folders (handy for that aforementioned screenshot feature).
Performance has been beefed up too, with the addition of 64-bit support, an updated UI, and a faster file format. Those looking to extend Acorn's features can take advantage of new programmer APIs that provide custom image import and export and support for JSTalk Scripting.
You can download a free two-week demo of Acorn 2; once the demo period is up, the program continues to function for free in a Lite mode, with some of the more powerful features unavailable. A full license for Acorn 2 costs $50; if you're upgrading from Acorn 1.x, that price gets cut in half to $20 (those who purchased Acorn on or after July 2 can upgrade for free). Acorn 2 requires Mac OS X 10.6—yes, that's Snow Leopard—or later.