At a Glance
Expert's Rating
Pros
Removable dock for USB bus-powered portability
Cons
Scans of images contained strange artifacts
Bundled software very limited
Our Verdict
The Strobe 500 marks the return to the Mac by scanner maker Visioneer after an 11-year absence. The Strobe 500 is a document scanner that features a removable dock that, when removed, allows it to operate as a USB bus-powered, portable scanner. It can scan color or black and white and scan both sides of a sheet of paper simultaneously at a resolution of 600 dpi.
The beige and black Strobe 500 is a portable scanner about the size of a box of Saran wrap. The scanner can use power from USB (using two USB cables) and scan one sheet at a time, or you can attach it to the included black docking station with its 20-sheet capacity feeder, which requires an external power supply.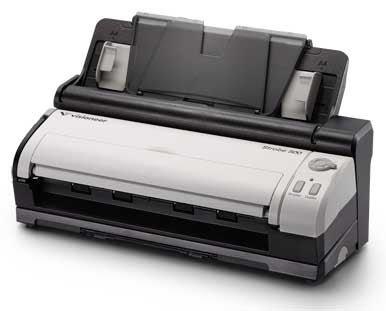 Instead of creating its own Mac drivers, Visioneer turned to ExactCODE GmbH and their proprietary scanning driver, ExactScan. Not TWAIN compliant, the software will allow you to scan to an application like Preview or Acrobat, but you can't pull scans into these applications with the Strobe 500 (or into the bundled Presto PageManager application, for that matter).
The ExactScan software does offer presets to let you scan to Mail, iPhoto, or to a printer. The Strobe 500 ships with a "lite" version of ExactScan 2 that supports only PDF and compressed PDF; there is no OCR functionality built-in, and scanning to JPEG or TIFF files isn't supported. Also not supported in the lite version is the image rotation or the ability to skip blank pages.
Jury tests: Scan
| | |
| --- | --- |
| Color | Fair |
| Detail | Fair |
| OCR accuracy | Fair |
Scale = Superior, Very Good, Good, Fair, Poor
Visioneer says that an upgrade to the standard version will soon be available, for a fee, from the Visioneer Web site. The standard version allows for blank page skipping, rotation, and scanning to JPEG, TIFF and PNG file types. OCR is not offered in the standard version, only in a Pro version, which the company also hopes to make available for purchase shortly.
Timed trials: Scan
| | |
| --- | --- |
| 1 page single sided 300dpi to file | 0:14 |
| 10 pag double- sided 300dp to file | 0:58 |
| 1 page single- sided 300dpi to Acrobat | 0:17 |
Scale = Minutes: Seconds
To test the speed of the Strobe 500, we ran it through a series of timed tests. Compared to recently evaluated sheet-fed scanners, the Strobe 500 was an average performer, taking 14 seconds to scan a single-sided page at 300 dpi to a file folder on our Mac Pro, and 18 seconds to scan the same document into Adobe Acrobat Professional. It took 58 seconds to scan ten images from a mix of single and double sided sheets.
The resulting scans unfortunately were underwhelming, with the Strobe 500 scans containing weird rectangular patches overlaying the scans-an interesting effect, but those shapes weren't in the original document we scanned. Colors in some of our scanned documents came out undersaturated and soft and when we scanned our text document into Acrobat Professional, a good amount of editing was necessary, more so than with competing scanners.
Specifications
| | |
| --- | --- |
| Scan resolution: Optical | 600 dpi |
| Max scanning bit depth | 24-bit |
| Connection | USB 2.0 |
| Scan sizes | 8.5 x 14 inches |
| ADF capacity | 20 sheets |
| Special features | Duplex scans, portable |
Macworld's buying advice
The Strobe 500's clever docking station allows it to server as both a desktop and a portable scanner. And while we're happy to see Visioneer back in the Mac business, the Strobe 500's bundled software and scanning quality leaves a lot to be desired.
[James Galrbaith is Macworld's lab director. Product photo by Peter Belanger.]