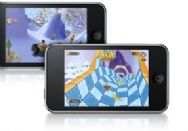 When Apple announced the latest iPod touch models at last week's Rock & Roll music event, the company's touchscreen iPod received two significant spec bumps. The first was higher capacities: you can now get an iPod touch with up to 64GB of flash memory. But for gamers, the more exciting improvement is that the 32GB and 64GB models are allegedly 50 percent faster than the second-generation models and include support for OpenGL ES 2.0, which provides advanced graphics capabilities to mobile devices.
Over the weekend I took the newest touch—specifically, the 32GB model—for a spin and performed some of the same basic performance tests Jason Snell used when testing the speed of the iPhone 3GS. I timed the boot process, measured how long it took to launch several games, and tested performance on a few Web tasks.
So do Apple's claims hold up? While the results vary from task to task, the new iPod touch—which Apple dubs the "iPod touch (late 2009)"—is noticeably faster across the board. Booting is dramatically faster, as are launching applications and browsing the Web.
As you can see in the table below, in some cases the new touch completed tasks in less than half the time it took the original second-generation model, and in every test the new touch easily bested its predecessor.
iPod touch speed tests
| | touch 2G | touch (late 2009) |
| --- | --- | --- |
| Boot | 31 | 19 |
| Peggle | 12 | 7 |
| HR Battle | 20 | 15 |
| Rolando 2 | 10 | 5 |
| Web page | 34 | 15 |
| Sunspider | 34.2 | 15.6 |
Results are in seconds. Best results in bold.
But it's not just in benchmarks such as these where the new iPod wins out. Just as the iPhone 3GS was faster than the iPhone 3G at everything, the new iPod touch feels much faster at any task you throw at it: applications launch (and quit) faster, Web pages load more quickly, processor-intensive games and programs perform better—you name it.
We'll be testing the latest iPod touch's performance—compared to both the previous touch and the iPhone 3GS—for our official review, but it's clear that Apple has beefed up its newest touchscreen device.
Editor's note: An earlier version of this article referred to the new touch as the iPod touch 3G. Apple calls this new model the iPod touch (Late 2009), so we've updated the article to reflect that fact.