Mark of the Unicorn (MOTU) has released Digital Performer 7, an upgrade to its audio workstation software, featuring a variety of additions and productivity enhancements, including a new suite of modeled guitar effects plug-ins.
DP7's suite of classic guitar pedal emulations are modeled after Boss, MXR, Electro-Harmonix, Ibanez and others. These stomp box plug-ins are designed to produce authentic tones made famous by artists such as Eric Clapton, Joe Walsh, Carlos Santana, Pink Floyd, Nirvana, and other musicians.
The suite includes nine pedals: Tube Wailer, Über Tube, Diamond Drive, RXT, Delta Fuzz, Wah Pedal and others. Users can experiment with hundreds of tones and thousands of combinations.
Custom '59 amps
Custom '59 models feature three all-time classic guitar amplifiers: the Fender Bassman, the Marshall JTM45, and the Marshall JCM800. Users can adjust tone settings, drive, and tube combinations to produce rich guitar tones that faithfully reproduce the sound of each amp. Custom '59 also lets users mix and match the preamp tube, preamp circuit, and tone stack from each model to create their own custom amps.
Live Room | G
DP7's Live Room | G is a physical modeling speaker cabinet emulator plug-in with four mic channels (two mono and one stereo), mixable mic positions (close, near, and far) and 3-band EQ per channel. The modeling technology in Live Room | G is designed to capture the nuance and detail necessary to recreate the sound of a speaker cabinet in a real room recorded by four separate mics.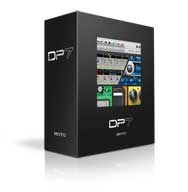 Five cabinet models are supplied, including a 4×12 Modern for ultra-distorted chunks and sludge, a 4×12 Vintage for '80s hair-band tributes and '70s proto-metal, and a 2×12 Combo for Muscle-Shoals-style southern rock and country.
Live Room | G is a component (usually the final stage) for DP7 guitar tone signal chains. Users can combine Digital Performer's stomp pedal effects, Custom '59 amp emulator, and Live Room | G's cab emulation in myriad combinations for guitar parts, bass parts, and any amped instrument.
Live Room | G lets you hear any track through a speaker cabinet. What might take hours of setup and tinkering with a real cabinet in a room with multiple mics will take just a few moments to set up on screen in a Digital Performer project, the company says. Users can experiment with just about any sound source to add depth, dimension and organic feel.
Additional new features
Other additions in Digital Performer 7 include a customizable, floating window called Channel Strip that provides access to each track' mixer channel; Inline EQ and dynamics for controlling EQ and dynamics directly in each Mixing Board channel with a multi-band graphic EQ display and a vintage-style compression meter; Consolidated V-Racks which lets users view V-Rack virtual instruments and effects side by side with disk tracks in the Mixing Board; Info Bar mixer controls that offer instant access to mixer channel settings in any edit window; Large Counter, which lets users freely resize the Counter window to any size; Marker Counter, which displays markers in large type directly in the Control Panel and/or resizable Counter window.; the ability to type in lyrics directly below notes on the QuickScribe page or paste them into the lyric window from a word processor and flow them into a track with one click; transposable chord symbols; and QuickScribe notation enhancements. In addition, DP 7 features support for Pro Tools 8, so it can operate as a software front-end for Pro Tools | HD systems.
Digital Performer 7 is $395; an upgrade from the previous version is $195. The software runs on Mac OS X 10.4.7 or later, including Snow Leopard. You'll need at least a 1GHz PowerPC G4 processor—though MOTU recommends a multiprocessor or multi-core Power Mac G5 for PowerPC users—or any Intel-based Mac.