Editor's Note: The following article is reprinted from Macworld UK. Visit Macworld U.K.'s blog page for the latest Mac news from across the Atlantic.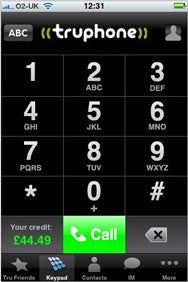 Truphone, a mobile Voice over Internet Protocol (VoIP) application for iPhone and iPod touch has issued a service update following the release of the iPhone 3.1 Software Update.
"We are writing to inform you that should you install OS 3.1, you may encounter service problems with the current version of the Truphone application (version 3.0.2)," Truphone says.
"We are aware of this issue and indeed already have a solution (Truphone 3.03), with Apple for approval. We had hoped that our new version would be approved and available at the same time as the Apple 3.1 firmware. We are, of course, working with Apple to ensure a speedy release of this update.
"In the meantime, if you are a frequent user of Truphone and wish to maintain an uninterrupted service, then we recommend that you do not upgrade to Apple iPhone OS 3.1 until the new Truphone version is available.
"However, if you have already installed OS 3.1, then we apologise for any inconvenience you may experience and ask that you install the new version of Truphone (3.0.3)."
Truphone is a mobile Voice over Internet Protocol (VoIP) application that routes calls across the Internet. Calls are free to other Truphone users, those with Skype and Google Talk via Wi-Fi, while calls to destinations worldwide are offered at competitive prices insists the company. Earlier this summer, the app experienced problems with the iPhone 3.0 software update.
The application, which works with both iPhone and iPod touch, is free and available from the Apple iTunes App Store. Apple released the iPhone 3.1 Software Update last week at a music-themed event in San Francisco that saw the return of Steve Jobs.