Since opening its virtual doors two years ago, Mint.com has made quite a name for itself. The online personal finance site has won praise for its easy account setup and syncing as well as for Web 2.0-style features such as suggesting products and savings tips based on users' financial decisions and behaviors. Those features have not only helped Mint.com amass 1.5 million users but have garnered the personal finance site a lot of attention.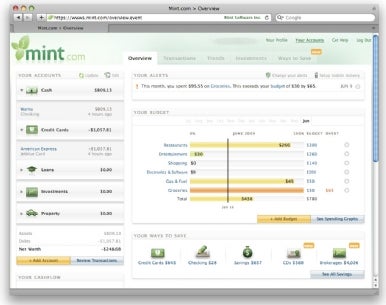 One of the groups taking notice of Mint.com was Intuit, which offers an online finance and banking service of its own. And now that service will include Mint.com—on Monday, Intuit announced it's paying $170 million to buy the upstart rival to its personal finance offerings.
"This move will enhance Intuit's position as a leading provider of consumer [Software as a Service] offerings that connect customers across desktop, online, and mobile," said Intuit CEO Brad Smith in a press release announcing the Mint.com purchase.
That's all well and good for Intuit, of course, but what will consumers get out of the deal? For now, it seems like more of the same. Intuit says it will keep both Mint.com and Quicken Online as separate services. Look for Mint.com to become Intuit's primary online personal finance site. Quicken Online will be aimed at customers who already use the Quicken desktop and mobile offerings. (And yes, Mac users: Quicken Financial Life—the oft-delayed reboot of the Mac edition of Quicken—remains in development for a 2010 release.)
That Mint.com will remain a distinct operation—and that founder and CEO Aaron Patzer becomes general manager of Intuit's Personal Finance Group—is one of the more intriguing aspects of the deal. The Los Angeles Times in its report on the Intuit purchase speculates that Intuit has done more than just buy up Mint.com's customer base, it's also hoping to "get some of Mint's innovative mojo." The Wall Street Journal's Digits blog, on the other hand, notes that some users are already concerned that Mint.com's well-regarded "Ways to Save" feature might suffer from Intuit's tinkering.
Whatever lies ahead, the purchase of Mint.com is expected to close during the fourth quarter of 2009, after it undergoes regulatory review.