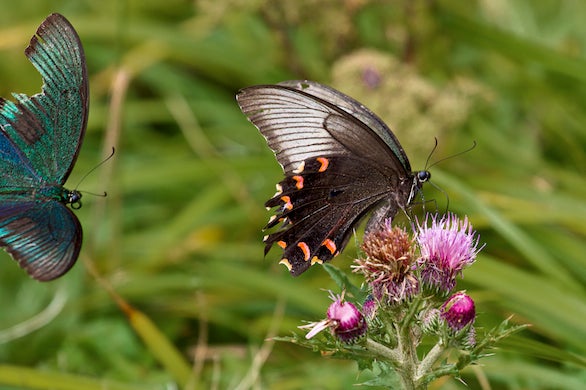 While I was hiking in Jeju, South Korea, I became enamored with what many referred to as the Gypsy Moth. At first they looked like giant butterflies, but on closer inspection you could see that they were indeed exotic moths.
The problem was they were always on the move and difficult to photograph. I decided that my best chance was to find where they feed. Maybe one would remain motionless just long enough for me to get a photo. I wandered a bit off the beaten path and found a large patch of thistle—and with it, lots of hungry moths.
I mounted a Canon 70-200mm f/4 L zoom lens on a Rebel T1i. Because of the T1i's cropped sensor on the T1i, this gave me an effective reach of 320mm. I wanted a fairly wide aperture to soften the background and a relatively fast shutter speed to freeze the action. Because there was plenty of light, I was able to use 1/350th of a second at f/5.6 with an ISO setting of 200.
When shooting, I often use my camera's Program Shift feature to select my settings. This lets me keep the Mode dial set to Program, then simply rotate the Main dial (right above the shutter release button) to choose the aperture and shutter speed combination that best fits the situation. It's much faster than changing modes because you can keep your eye focused on the subject through the viewfinder while rotating the Main dial.
I found a group of flowers that one moth seemed interested in, prefocused on that spot, and waited. Within a few minutes my subject landed to feed, and I fired off a series of shots in burst mode. One of the things I like about this particular frame is the second moth flying in from the left. (As I quickly learned, he had more amorous ambitions than simply feeding.)
I processed the raw file in Apple's Aperture. This includes cropping, toning down the green in the background, and adding a little pop with the Definition and Edge Sharpening tools. I then applied a few finishing touches in Adobe Photoshop CS4, such as cloning out a few distracting bright spots, downsampling the image, and finishing it off with the Smart Sharpening tool.
[Senior Contributor and professional photographer Derrick Story teaches iPhoto on Lynda.com and runs a virtual camera club at The Digital Story.]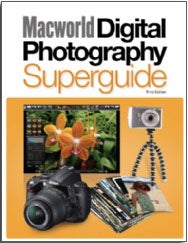 [Want to submit your own photo to our Snapshot series? Send the photo (or a link to the photo) and a description of how you got the shot to digitalphoto@macworld.com. We'll pick our favorites and feature them on our Website. Chosen photographers will receive a free printed copy of our new Digital Photography Superguide.]