A few weeks ago, I wrote an article about streaming music from iTunes to your stereo. While the techniques I described work just fine, they were limited in that they required an Apple AirPort Express or an Apple TV. And using them, you could only stream from iTunes. Sometimes, however, you may want to stream music from other applications: perhaps you listen to Internet radio with a dedicated program; or you may have music—in FLAC format, for example—that you can't listen to with iTunes; or you may want to stream the audio from Pandora or Last.fm to speakers in a different room from your Mac.
One application that has some neat streaming tricks up its sleeve is Rogue Amoeba's $25 Airfoil 3 ( ). It duplicates some of what I explained in my earlier article—streaming to an AirPort Express or Apple TV—but can also stream to other computers on your network, whether they run OS X, Windows or Linux. On top of that, Airfoil can stream more than just iTunes: in fact, it can stream audio from any application, whether it be an audio application, such as RealPlayer or QuickTime Player, or your Web browser or other software that's playing audio. (And, for extra credit, it can even stream to an iPhone or iPod touch.)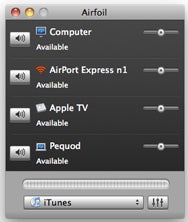 Starting to use Airfoil to stream music is almost too easy. Launch Airfoil and you'll see a small window. In the example on the left, you can see my Mac (Computer), my AirPort Express, my Apple TV, and another Mac (Pequod); all these devices are available on my local network. To stream to another computer you need to download and run Airfoil Speakers on the client computer; the other devices get spotted automatically. Airfoil uses some of the same technology found in its Audio Hijack Pro software; the first time you want to stream music, you'll need to either quit and relaunch the source program so its audio can be "hijacked", or Airfoil can install software that will let it hijack each time you want.
Click on the Transmit button to the left of any device, and your music streams. There's really not much more you need to do. You can stream music to as many devices on your network as you want: just click on the Transmit button for each of them. Have you ever wanted to have a party and pipe music into several rooms at the same time? This is the perfect way to do so—send music to an AirPort Express connected to speakers in one room; to an Apple TV in the living room; and to a Mac or PC connected to speakers in another room. You'll love it (even though your neighbors might not).
There's another neat trick you can perform with Airfoil. If you download the the company's free Airfoil Speakers Touch app and install it on your iPhone or iPod touch, those devices become available on your local network (you can't yet stream to them over the Internet). Just choose one of them and click on the Transmit button to send audio to it. This is great if you want to listen to music from your iTunes library that's not on your iPod touch, but only if you're within range. Unfortunately, since you can't run apps is the background on the iPhone or iPod touch, you can't listen to music through Airfoil Speakers Touch and control your iTunes library with Apple's Remote app at the same time. You have to switch back and forth to do so.
The real advantage of Airfoil is its ability to stream from any application to a number of devices, including other computers. Many users will be happy with the AirPort Express/Apple TV solution, but if they don't have that hardware, an old computer can be set up to receive audio with Airfoil and run it through speakers. (And for those readers who might need it, the company has a Windows version of the program as well.) Streaming to an iPhone or iPod touch is a plus, but since it's limited to your local network, it's mainly a way to "expand" the capacity of your mobile device so you can listen to music that's not currently synced to it when you're around the house.
[Senior contributor Kirk McElhearn writes about more than just Macs on his blog Kirkville.]