Editor's Note: The following article is reprinted from the Game On blog at PCWorld.com.
Season four of Dexterstarts up in just a few weeks, and Mark Ecko Entertainment is ringing things in with Dexter The Game for iPhone, available for $6 on Apple's App Store.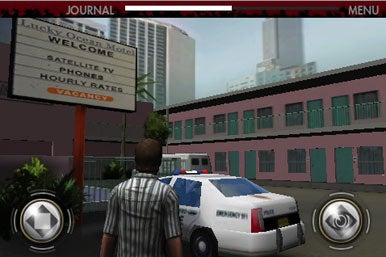 You know Dexter? The Showtime series about Dexter Morgan (played by Michael C. Hall), full-time blood spatter analyst for the Miami Metro Police Department as well as surreptitious serial killer? Guy who fingers rows of blood-smeared microscope slides? Best cinematographic title sequence in the history of modern television?
How many games let you play as a serial killer? OK, probably more than one, though that probably depends on your definition of both "serial" and "killer." But how many serial-killer-playing-games are based on TV shows that can say they made you root for a gleefully violent guy who wraps human victims in swathes of industrial plastic, taunts them with pictures of their victims, then plunges a butcher knife through their sternum and into their hearts?
That's right, just one.
In Dexter The Game, you probe "fully realized 3D environments" as Dexter—voiced by show star Michael C. Hall himself—dissecting crime scenes, unearthing evidence, and employing stealth mechanics to hunt your victims. The catch? As in the show, Dexter follows a code (it's mutating in the show, but the game follows season one): Only kill the guilty, maintain your "mask," and above all, don't get caught.
There's more on the game at the official site.
[Follow Matt Peckham on Twitter @game_on.]