News junkies come in many subspecies and tribes. I suppose the one I know best is the political junkie, of which I am one. Political junkies get their fix daily, and often hourly, from news and blog sites such as the Washington Post, the New York Times, Drudge, Memeorandum, and AllTop. Our RSS feeds are fat but finely tuned. Our e-mail boxes runneth over.
There is no shortage of newsreader apps for the iPhone or iPod touch, and so it should come as no surprise that enterprising developers have begun to diversify and specialize. Three political news apps in particular vie for readers' attention, each with their own strengths and weaknesses.
Read more…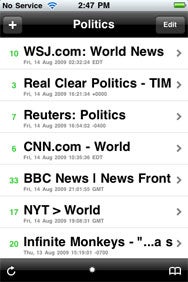 Moritz Philip Recke's asap-Politics is a quick and simple RSS-style reader geared toward U.S. and German news. (Readers have the option of switching back and forth between English language and German bookmarks). I'm not sure it's the best app for political junkies out there, but it does the job if you are willing to spend some time adding your favorite feeds. The app comes with a handful pre-loaded, including CNN, BBC, Reuters, the Wall Street Journal's world news page, and RealClearPolitics. Adding a feed is a fairly simple matter of tapping a plus (+) button in the upper left-hand side of the app's main screen and typing in the URL of the site you wish to include. You can delete feeds with a tap and a swipe, and sort your feeds with a drag and a drop.
Browsing with asap-Politics is a graphically unsophisticated but clean and no-nonsense experience. The $2 app lists complete headlines with three or four lines of summary. No unsightly breaks or rude truncations here (or, rather, too few to complain about). A button at the top right of the screen lets you mark all stories as read. Tap on a story, and the app launches an internal browser. You can tap or pinch-zoom on text, but the app doesn't support a landscape view. Also, the app requires a 3G, EDGE, or Wi-Fi connection and doesn't do offline support very well.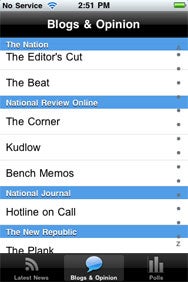 Techpoint Studios' $1 iPolitics seems like an app designed for high school civics teachers. IPolitics has three navigation buttons at the bottom of its home screen: Latest News, Blogs and Opinion, and Polls. The app includes most of the traditional news sources one would expect to find in a political news aggregator, including the Washington Post, Washington Times, the New York Times, Reuters, MSNBC, Fox News, Politico, Time, and Newsweek. The blog section is fairly comprehensive—by far the best feature of this app and superior to the two other under review here, with only a few odd omissions. For example, iPolitics features the Wall Street Journal's Capital Journal and Washington Wire, but omits James Taranto's Best of the Web Today column for the Journal's OpinionJournal.com site.
Finally, if the horse race aspect of politics is your main area of interest, iPolitics has links to polls from ABC News, Gallup, Congressional Quarterly, Politico, Pollster.com and the Washington Post.
Yet iPolitics is curiously limited. There is no way to customize the app, and it lacks most of the standard features of an RSS reader. You cannot flag stories or mark all as read. You get a lot of sources, but the app doesn't allow you to add any feeds you might want or delete any you might not read. The headlines are very small and impossible to adjust. And unlike many such apps with internal browsers, iPolitics lacks any sort of backup function to open stories in Safari in the event a story fails to open.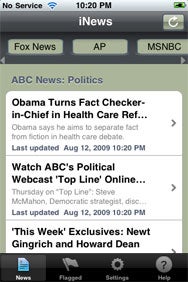 Finally, iNews Politics by Plaveb reminds me of an overly ambitious candidate for local office who outreaches his grasp with promises that sort of deliver, but not as expected. iNews Politics does most of the things any decent RSS reader would do, such as let you flag and e-mail posts (but, oddly, you cannot mark all as read). A note to all would-be news app developers: Horizontal navigation is ugly and clunky. Don't use it. Ever. Scrolling through the sources at the top of the iNews Politics is an eye-rolling exercise. A site with a name longer than eight or nine characters will get cut off.
The $1 app is, at first glance, more pleasing to the eye graphically than either iPolitics or asap. (That may not be saying much with this lot, but it still says something…) It breaks out a few stories by source, which you can scroll through at your leisure, tapping an item for a slightly expanded summary and then open either in an internal browser or with Safari, which closes the app. But unlike asap-Politics, iNews Politics badly truncates summaries.
More troubling is the way you manage feeds in iNews Politics. You can enable or disable feeds with the flip of a switch under the app's settings. That's to the good. What's frustrating is what you do with a feed that simply doesn't authenticate correctly. I had no trouble adding feeds to asap-Politics, either as RSS or with standard http addresses. iNews Politics stubbornly refused a couple of my favorites. Although I can "disable" them (they were never really "enabled") so they don't appear in the annoying top nav bar, I can't actually remove them. Also, unlike asap-Politics, you can't sort the order of your feeds.
On the upside, however, iNews Politics does support offline reading and a landscape mode.
Three of the very best politics apps for the iPhone and iPod Touch are Congress+ ( ) and President ( ), both by Cohen Research Group, and PoliticoTracker ( ) by ptracker. Those apps aren't perfect: each has certain limitations, and President and Congress+ were not designed as news apps but do incorporate news features. As sources of information, those three apps, in concert with a first-rate RSS reader such as Byline ( ) or Newsstand ( ), give the political junkie access to everything they need to know with just few taps.
asap-Politics and iPolitics are compatible with any iPhone or iPod touch running the iPhone 3.0 software update. iNews Politics runs on the iPhone 2.x software.
[Ben Boychuk is a freelance writer in Rialto, Calif. who co-writes a weekly political column for Scripps-Howard News Service. Feel free to e-mail him.]