Editor's Note: The following article is reprinted from the Today @ PC World blog at PCWorld.com.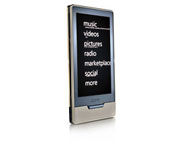 After months of rumors, scattered details and a few brief appearances, the Zune HD is finally here. Microsoft is discontinuing the older Zune models to focus on the Zune HD and build an ecosystem of software and accessories around it. There's a lot to like about the Zune HD—from its slim design to its unique music discovery features.
Physically, the Zune HD got a complete makeover. Measuring 4 by 2 by 0.3-inches thick, it falls somewhere between the last year's hard- and flash-drive models in size. A 3.3-inch multi-touch OLED display dominates the device's face with a single, slim hardware home button lying below it. Because the display doesn't require a backlight, it uses less battery power. Microsoft says that the Zune HD can play music for up to 33 hours and video for up to 8.5 hours. For comparison, the iPod Touch has 30 hours of music playback and 6 hours of video.
Microsoft stepped up the Zune HD's FM radio functionality by adding an HD radio receiver to the hardware. HD radio delivers a cleaner sound quality than analog FM and allows stations to broadcast additional channels with different programming. For example, local San Francisco alternative rock station Live 105 has an HD station playing only classic alternative. You can also tag and download the songs you like. Best of all, HD radio is 100-percent free.
Of course, Microsoft couldn't justify tacking on "HD" onto the Zune name with only HD radio. The Zune HD also supports 720p HD video files so you can play videos via the HDMI docking station (separately sold; $80) to an HDTV. Microsoft improved the Zune HD's menu for TV viewing so you can easily navigate the player on your TV. The older generation Zune menu looked fuzzy and disproportional when plugged into a TV.
The Zune HD's UI has been freshened up with a new menu item called Quickplay. This handy feature displays your most recently added content, device history, and lets you to pin your favorites to the menu—whether it be video, music, photos, playlists, etc. Quickplay is also a menu option on the Zune PC software, but you can't sync up the two menus. If you favorite something on your Zune, it won't carry over to your PC.
Last but not least, the Zune HD's browser has been optimized to fully take advantage of multitouch. Yes, that means you can pinch to zoom into a page. According to Microsoft, the browser is based on Internet Explorer. It also has a full-QWERTY touch keyboard.
Microsoft is definitely packing the punches in the battle for best touch portable media player and this is only the hardware. New apps, a variety of new music discovery features in the software and Zune's expansion into Xbox Live territory. Check PC World soon for a full-rated review of the Zune HD's hardware and software updates later today.