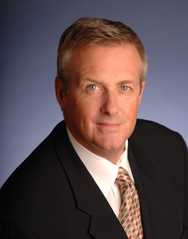 Ah, Mr. Cooperman—we hardly knew ye. Apple announced on Tuesday morning that its general counsel, Daniel Cooperman, will be retiring at the end of the month, to be replaced by incoming senior vice president, Legal and Government Affairs, Bruce Sewell (pictured).
Apple CEO Steve Jobs chimed in on the move in a statement released by Apple, saying, "With Bruce's extensive experience in litigation, securities and intellectual property, we expect this to be a seamless transition."
It was a mere two years ago this month that Apple announced it would be hanging with Mr. Cooperman, who joined the company from his former position as general counsel of Oracle. He in turn, replaced Donald J. Rosenberg, who had been general counsel of IBM before serving as Apple's lawyer-in-chief for about ten months. The new kid on the block, Sewell, was formerly senior vice president and general counsel for—drum roll, please—Intel.
Man, when it comes to legal counsels, Silicon Valley is like a big game of musical chairs.
Sewell worked his way up the rungs at Intel, starting as a senior attorney in 1995 where his expertise was compliance, licensing, and intellectual property (which ought to come in handy in the ongoing trial against a certain clone-making company whose name rhymes with lie-jar).
He moved up to deputy general counsel in 2001, and took the head office in 2004. Prior to Intel, he was a partner at litigation house Brown and Bain PC. And, in a detail you won't hear in Apple's press release, Sewell worked on the 1980s tiff between Apple and Microsoft over whether Windows had ripped off the Mac's graphical user interface (Brown and Bain represented Apple, of course—phew).
Sewell received his J.D. from George Washington University in 1986 and his B.S. from the U.K.'s University of Lancaster in 1979. And before you ask, no, he's not related to British actor and heartthrob Rufus Sewell and, frankly, we hear he's getting a little tired of being asked.