At a Glance
Expert's Rating
Pros
Superb inbound and outbound call quality
Impressive handling of calls in windy environments
Cons
Bulky design overall
Some controls initially hard to find by feel
Our Verdict
Take advantage of the Voyager Pro's impressive wind reduction during calls–and expect great audio quality, to boot. You'll have to be content with this Bluetooth headset's chunky design, though.
A Bluetooth headset needs three things to be great: comfort, good audio quality and decent battery life. Plantronics' Voyager Pro hits it out of the ballpark on all counts.
The Voyager Pro probably won't win any fashion awards—it has a bulky earclip and a protruding boom mic that stretches from your ear to about halfway down your cheek, so it's not as chic looking as, say, Aliph's Jawbone. But if form follows function, Plantronics' design is perfectly suited for what's under the skin.
The headset is an ambidextrous design—you can wear it on your left or right ear by simply pivoting the boom-mic stem out from the earclip and rotating it 180 degrees. The earclip itself is soft and flexible, malleable for a variety of different ear shapes, and lightweight enough I often forget I was wearing it. The earpiece covers your ear canal, and Plantronics provides several silicone attachments and two foam covers to find the right size.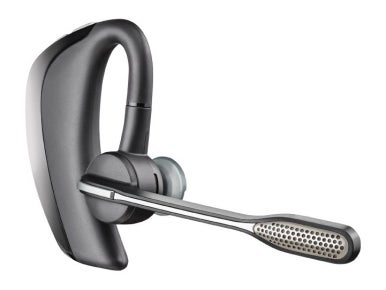 The boom mic incorporates three different types of sound-deadening hardware, including low-tech stuff like a stainless steel screen and acoustic fabric to deaden wind noise, along with high-tech hardware in the form of an electronic filter. The mic picks up and reproduces your voice clearly while drowning out anything but the most egregious wind noise or ambient sounds in your environment. During my testing, no one complained that they couldn't understand me or had trouble hearing me.
There are obviously limits to the Voyager Pro's noise-deadening capabilities; for example, in my car with the windows and sunroof open, traveling at speed, I could overcome the "WindSmart" technology. But walking around outside, even on a breezy day, the wind was no match for this headset.
The Voyager Pro's pivoting boom lets you find the optimal mic angle—and lets you move the mic out of the way when you're not using it. (I could see the mic in my peripheral vision when I wore it, so I appreciated being able to point it down and out of the way when not in use.)
The Voyager Pro features "multipoint" support, so you can pair the headset with two devices—say, your iPhone and your Mac (Bluetooth 2.1 with EDR is supported). However, as with other multipoint devices, the Voyager Pro can only be actively used with one device at a time. To activate the headset when you receive a call, or deactivate it when you end a call, you simply press the center of the boom (over the earpiece).
A problem with many Bluetooth headsets is learning what various combinations of beeps mean. Plantronics has ameliorated this problem to a certain degree by including several voice recording in the device. For example, when the battery gets low or if you've activated the mute function, a pleasant female voice softly speaks in your ear to let you know.
Speaking of battery life, Plantronics rates it at up to six hours of talk time or five days of standby time using a single charge. My review unit easily managed that, and may have actually exceeded it. The Voyager Pro charges via the included AC wall plug, and an LED built into the earpiece tells you when the unit is active or charging, or when the battery is low.
The Voyager Pro's boom mic is a bit protuberant, but I'm willing to forgive this very minor design quibble for the benefits it provides. Beyond that, the Voyager Pro is superlative in just about every other respect. You'll be hard-pressed to find a better Bluetooth headset for the money.