Do you find your iPod or iPhone's screen too small to comfortably enjoy watching video? If so, you might want to check out Vuzix's upcoming Wrap 310 video eyewear.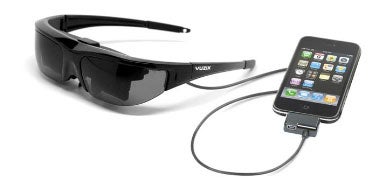 The $250 Wrap 310, which will be available in the late fall, displays high resolution 16-by-9 widescreen video from your iPod or iPhone (as well as DVD players, computers, TVs, and other portable media players) via eye glasses that project the equivalent of a 55-inch TV screen. For audio, it includes noise-isolating earphones.
iPod-compatible eyewear isn't new, but the Wrap 310 is designed to look and feel more like traditional sunglasses than other models. There are also optional VGA and component adapters, and an expansion port for future accessories.
The company says the Wrap 310 will operate for up to six hours using two AA batteries.
The Vuzix's Web site had not been updated with information on the Wrap 310 at the time the story was posted.