At a Glance
Expert's Rating
Pros
Lush sound
Sturdy build
Cool glowing valves
Cons
Unconventional look
Stereo sound not as striking as on larger speakers
Our Verdict
It's hard to deny that valve audio amplifiers (also called tube amplifiers) look cool. Orbitsound combines valve amplification with its stereo technology to create the T6, a unique iPod dock and speaker system.
The T6's speaker is about the size of your usual bookshelf-sized speaker, except that there's only one unit instead of a pair. For some audiophiles, having just one speaker may be a psychological barrier; it looks like a step back into a monaural world. But fear not, because the T6 uses Orbitsound's AirSound technology. AirSound creates stereo sound from a single speaker, with the aim of delivering more natural sound. With conventional stereo, two channels are presented separately to create a sense of space. Thus, you need to stand in the stereo "sweet spot" to get the best sound. Since there's only one speaker when using AirSound, there's no need for a sweet spot.
I found that AirSound works. While the T6's stereo separation isn't as striking as that found in a larger single speaker like Orbitsound's T12 Soundbar, it does give off a very natural sound, as though the music is being played in front of you. It's also a very roomy sound; reverby vocals and guitars sound delicious, while the bass response is also strong, considering the size of the speaker unit.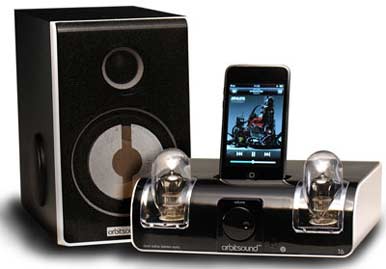 There's a switch on the back of the speaker unit for flicking the AirSound effect to Off, Mid, or Max. The Mid setting is fine for smallish rooms, while the Max setting can sound a bit full-on with music that has a lot going on.
The valves are used as the first stage of preamplification, and while they're predominantly eye candy, may help to produce warm, lush audio. But when they're glowing their faint purple glow, they almost make your music sound better just by looking at them.
Macworld's buying advice
The T6 has a unique look, and some may find it difficult to accept using a single speaker unit. The T6's smaller size means it doesn't quite reach the sonic heights of larger speakers. That said, Orbitsound's approach to stereo is refreshing and the T6 is a lovely sounding unit.